Chronic Lymphocytic Leukemia
The FDA has expanded the label of ibrutinib (Imbruvica) to include overall survival results in treatment-naive patients with chronic lymphocytic...
Read More >>
The Committee for Medicinal Products for Human Use has recommended the frontline approval for ibrutinib (Imbruvica) as a single-agent for patients...
Read More >>


Featured Programs

This expert panel discussion led by William Wierda, MD, focuses on new agents available for the treatment of chronic lymphocytic leukemia.
Dr Wierda is joined in this discussion by Alessandro Ferrajoli, MD; Richard R. Furman, MD; Thomas J. Kipps, MD, PhD; Shuo Ma, MD, PhD; and Susan M. O'Brien, MD. The panelists share their experiences in treating patients with CLL, including prognostic factors, use of chemoimmunotherapy, and the potential for newer agents that are now available or being studied.

In this segment William Wierda, MD, PhD, and Jennifer Brown, MD, PhD, discuss the triggers for starting therapy in a patient who has chronic lymphocytic leukemia.
Immunotherapy and Oncology
Mark Socinski, MD, moderates this OncLive Peer Exchange panel discussion on modern use of anti-angiogenic therapy. The experts in gastrointestinal and lung cancers include Johanna C. Bendell, MD; Edward Garon, MD; Roy Herbst, MD; Yelena Y. Janjigian, MD; and Manish Shah, MD.
View Now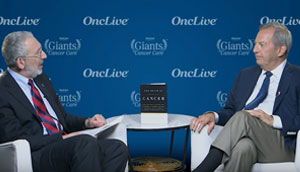 In
The Death of Cancer
, written by Vincent T. DeVita Jr, MD, a pioneering oncologist reveals, after 50 years on the front lines of medicine, why the war on cancer is winnable, and how to get there.