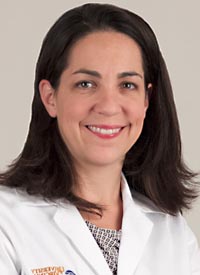 Shayna L. Showalter, MD
Assistant Professor, Surgery
Division of Surgical Oncology
University of Virginia Cancer Center
Charlottesville, VA
Although treatment for early-stage breast cancer offers excellent survival outcomes and low rates of disease recurrence, there is a need for improved radiation therapy strategies that would encourage more patients to pursue optimal, evidence-based choices. The University of Virginia (UVA) Cancer Center has developed a new method for delivering radiation therapy along with less invasive surgery in a more precise and personalized manner. Because more than half of the women diagnosed with breast cancer annually in the United States have early-stage disease, the potential impact of the UVA Cancer Center research is widespread.
Surgical treatment options for early-stage breast cancer include mastectomy or breast-conserving therapy (BCT), which involves a lumpectomy followed by radiation therapy, typically in the form of whole-breast irradiation (WBI). Large randomized clinical trials have established that mastectomy and BCT with WBI are appropriate treatment options for early- stage breast cancer, with equivalent survival outcomes.
1-7
In 1990, the National Institutes of Health issued a consensus statement that supported the use of BCT and WBI as the preferred management for patients with invasive breast cancer.
8
This report was followed by widespread adoption of BCT with WBI. BCT without WBI is associated with an unacceptably higher recurrence rate and a potential increase in mortality.
1,9-11
However, despite the potential advantages of BCT, many eligible women opt instead to undergo mastectomy because of the long- and short-term adverse events (AEs) associated with WBI and the burden of treatment, which involves traveling to a radiation facility for daily treatments for 3 to 6 weeks.
12
In addition, 20% of women who are treated with BCT never receive radiation as part of their treatment.
13
Multiple factors contribute to the lower than expected use of BCT and the associated underutilization of adjuvant radiation, including cost, specific tumor characteristics, patient social and demographic factors, physician/patient bias, distance from the radiation facility, and lack of social support.
12-15