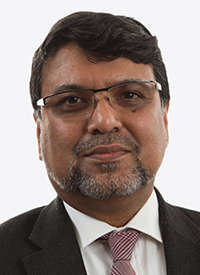 More than 20 years ago, I was a younger immunologist training in radiation oncology at Montefiore Health System, Albert Einstein College of Medicine, in Bronx, New York, one of the country's leading institutions for medical education, basic research, and clinical investigation.
Radiation fascinated me. At the time, radiation had been seen just as killing cells. I theorized, however, that in a carefully structured setting, radiation could provoke cells to act differently. I began studying the consequences of tumor cell death after radiation therapy (RT) and looked into how exposed, dying cells are cleared in the body. Since tumor cells carry unique proteins that become mutated, it seemed reasonable that the body's immune system could be trained to recognize cancer proteins as "foreign." By alerting the body, I theorized that we should be able to use our own immune system to fight cancer.
To activate the immunity, we started with a group of professional antigen presenting cells, the dendritic cells (DCs). These cells present as sentinels under the skin and mucosal surfaces and serve to guard us from "strangers" and "dangers"—essentially, pathogens that can invade our body to cause harm.
As cells die from infection, DCs "eat" the dead cells (phagocytosis) and migrate to adjacent lymph nodes, a training center for lymphocytes (white blood cells). Here, the DCs process and present protein fragments from pathogens on the DC cell surface to activate T and B lymphocytes and stimulate the proliferation of killer cells that can fight the pathogens inside the body.
Figure. Mounting a Dual Attack
Under normal conditions, DCs are minimally present in circulating blood. We reasoned that circulating DCs could ingest dying tumor cells after RT and present specific tumor antigens to T cells in tumor-draining lymph nodes, thereby activating a tumor-specific immune response.
However, upon stimulation with a naturally occurring protein, FMS-like tyrosine kinase-3 ligand (FLT3L), we can increase the number of DCs in blood. We started to study this protein and how it prompts the creation of more DCs. We decided to combine a course of ablative RT with FLT3L to manipulate the clearance of these irradiated, dying tumor cells to activate tumor-specific immunity.
Putting this practice to test in mice, our lab was the first in the United States to publish that systemic administration of FLT3L following an ablative course of primary tumor radiation-induced antitumoral immunity.
1
We had suppressed pulmonary metastases with long-term cure and immune memory in mice with metastatic lung cancer. These studies showed for the first time that irradiation enhanced the immunogenicity of tumor cells. The study also demonstrated that tumor antigens could enact DC activation and the cross-priming of T cells.
We were excited and could not wait to translate these seminal lab findings to patient care. The bench-to-bedside process, however, has been fraught with challenges. Since FLT3L by itself cannot control tumors, drug companies were skeptical that this theory could work. Countless hours were spent trying to design studies that could test the quantity of radiation doses and fractionation.
Eventually, we found a partner in Celldex Therapeutics to aid us in this quest of developing a novel treatment. Celldex, a Hampton, New Jersey–based company that develops therapeutics to address devastating diseases, obtained rights to FLT3L, and we were on our way. Then, more progress: Tibor Keler, PhD, a founder and chief scientific officer of Celldex, and I obtained a National Institutes of Health small business innovation research grant. This allowed us to investigate the immunomodulatory properties of FLT3L in combination with RT.