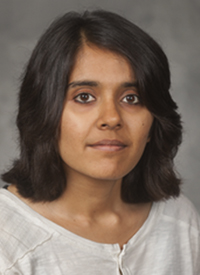 Priyanka Gopal, MS

Department of Translational
Hematology Oncology Research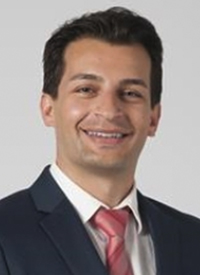 Mohamed E. Abazeed, MD, PhD
Department of Radiation Oncology
Cleveland Clinic
Cleveland, Ohio
Radiotherapy is highly effective because it can reduce the size of gross tumors or even eradicate them and sterilize microscopic disease noninvasively, thereby preserving organs. Technical advances in this critical tertiary specialty over the last several decades have led to significant improvements in its spatial and dosimetric precision.
However, there has been little progress in the incorporation of biological predictors of response to radiotherapy. In fact, other than average responses for particular tumor lineages, allowing for population-level projections for rates of complete or partial responses or progression, individualized prediction currently is not possible.
In the era of precision medicine, in which molecular taxonomies are increasingly governing the type of drug therapies patients with cancer are receiving, radiation oncologists unfortunately continue to apply their sophisticated therapy bluntly. Standard radiation doses and fractionation schemes are delivered based on the site of anatomical origin of disease and do not take into account the genetic complexity across and within cancer types. An understanding of the interplay between the cancer genome and radiation response has the potential to significantly advance the field of biologically targeted radiotherapy.
Specifically, there is an urgent need to nominate biomarkers that are likely to predict the efficacy of radiotherapy and accelerate their clinical translation. Efforts thus far have been limited in large part because the genetic features regulating tumor cell survival and their frequency across and within individual cancer types had not been studied on a large scale.
In May, the National Cancer Institute (NCI) awarded a $2 million grant to Mohamed E. Abazeed, MD, PhD, to study these questions in his laboratory at Cleveland Clinic in Ohio. The lab is seeking to identify new genetic markers calibrated on the basis of radiation therapy effectiveness and new drug–radiation therapy strategies that more precisely and effectively target lung tumors most resistant to radiation. The goal is to advance a genetically guided radiation strategy that makes tumor cells more sensitive to radiation therapy.
If the hypotheses are correct, the results will demonstrate that radiotherapeutic sensitizers can be selected based on the identity and type of genetic alterations identified in a patient's cancer, prompting an evolution in the use of radiation from a generic one-size-fits-all approach to one guided by the genetic composition of individual tumors.
Table. Gene Mutations that Correlate With Radiation Sensitivity1
Findings from Early Studies
In 2016, research conducted at Cleveland Clinic revealed new insights into the nature of the response of tumor cells to DNA damage by categorizing genetic determinants of survival after ionizing radiation in 533 human cancer cell lines across 26 cancer types.
1
The response to radiation can be represented as a Gaussian distribution—a high-entropy, multifactorial distribution—that strongly suggests heterogeneity within and across cancer lineages. Overall, 19 top genes were associated with radiosensitivity when mutated (
Table
). From our screen we identified many genes that, when altered, conferred resistance to radiation. These include
NFE2L2, PIK3CA, SMARCA4, ERBB2, BRAF,
and the androgen receptor (
AR
) gene.