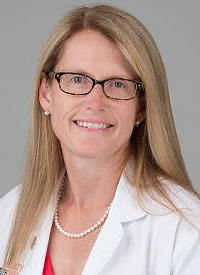 Susan C. Modesitt, MD, FACS, FACOG
Director, Gynecologic Oncology Division
Director, High Risk Breast/ Ovarian Cancer Clinic
Richard N. and Louise R. Crockett Professor of Obstetrics and Gynecology
University of Virginia Health System
Charlottesville, VA
Epithelial ovarian cancer remains one of the deadliest cancers in the United States, with 22,440 cases and 14,080 deaths expected in 2017.
1
This lethality largely occurs because the vast majority of women are diagnosed in advanced stages. In the past, a primary research focus to decrease ovarian cancer mortality has been to develop an effective ovarian cancer screening method.
2,3
This goal was based on the fact that women with a stage I ovarian cancer have a 90% five-year survival rate compared with a 15% to 30% 5-year survival rate in stage III/IV.
1
If screening were effective, it would decrease mortality.
2
broad population ovarian cancer screening, the best current option is to focus on prevention rather than early detection to decrease ovarian cancer mortality.
Rationale for Genetic Testing
In contrast to most other cancers, there is a much stronger hereditary component in ovarian cancer. As many as 25% of ovarian cancers are now known to be associated with an inherited cancer susceptibility syndrome, with the majority due to either
BRCA
or Lynch syndrome mutations (TABLE 1).
6
Thus, identifying women who are at vastly greater risk of developing ovarian cancer and implementing proven risk-reduction measures should be of paramount importance to every physician caring for women or patients with cancer.
Table 1. Genes Associated With Increased Ovarian Cancer Risk
How can women with high-risk disease be identified before they develop cancer? Due to the high risk associated with having a deleterious mutation, essentially every woman with epithelial ovarian cancer, fallopian tube, or primary peritoneal cancer will qualify for insurance coverage for genetic testing. This testing should include, at the minimum,
BRCA
and Lynch mutations but cancer panels can incorporate up to 50 cancer-related mutations for identical costs. Studies continue to show that we still fail to complete recommended genetic testing on the majority of women with ovarian cancer.

... to read the full story