Nameer B. Kirma, PhD
Cancer Therapy & Research Center
The University of Texas Health Science Center at San Antonio
Chun-Liang Chen, PhD
Cancer Therapy & Research Center
The University of Texas Health Science Center at San Antonio
Tim H.-M. Huang, PhD
Cancer Therapy & Research Center
The University of Texas Health Science Center at San Antonio
Moving through a crowd of people, if one pays attention to individuals, it's easy to discern different characteristics that make each person unique. Likewise, scientists have long conceptualized variations in cells comprising the different tissue compartments in the human body. Yet, even in seemingly uniform cell populations within subcompartments, cell-cell heterogeneity is becoming more evident, far beyond what was previously expected.
We can attribute this new awareness to the advent of innovative technologies that enable us to maneuver and manipulate single cells in fine-tuned microfluidic channels and to increasingly sensitive methods that probe metabolites, macromolecules, and cellular nano-physical structures. At present, researchers from both academic and corporate organizations are aggressively pursuing to optimize and develop more sensitive methods. Indeed, the era of noninvasive single cell biopsy is at hand!
Why does paying attention to single cells matter? Classically, biological research has focused on the analysis of pooled cells, from the thousands to the millions. Paradoxically, these conventional assays requiring the use of pooled cells suffer from limits of detection, and as a result, important alterations in a subset of effector cells within a cell population are overlooked, their relevance diluted in a sea of averages.
Normally, the alterations in cell physiology and molecular parameters (eg, cell biophysical features and gene expression profiles) are important in maintaining homeostasis and biological processes, such as development. But the aberrant changes that occur in a small population of cells or even in a single initiating cell can be pivotal for the development and progression of diseases, such as cancer and the acquisition of resistance to therapy.
Figure 1.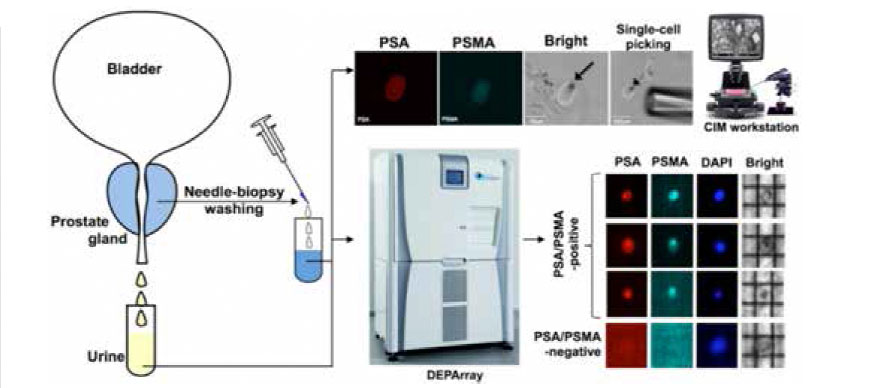 Single-cell isolation and characterization using CIM and DEPArray systems, respectively. Individual PSA/PSMA-positive prostate epithelial cells have been isolated from urine or needle biopsy washes for downstream analysis using BioMark or AFM. The same approaches will be used to isolate epithelial cancer cells and the associated stromal fibroblasts from endocervical brushes and to isolate circulating rare cells from blood samples of cancer patients.
Here at The University of Texas Health Science Center at San Antonio, we have developed the Single-Cell Biopsy and Characterization Core (SBCC), which recently received prestigious funding from the Cancer Prevention and Research Institute of Texas (CPRIT).