Nameer B. Kirma, PhD
Cancer Therapy & Research Center
The University of Texas Health Science Center at San Antonio
Chun-Liang Chen, PhD
Cancer Therapy & Research Center
The University of Texas Health Science Center at San Antonio
Tim H.-M. Huang, PhD
Cancer Therapy & Research Center
The University of Texas Health Science Center at San Antonio
Moving through a crowd of people, if one pays attention to individuals, it's easy to discern different characteristics that make each person unique. Likewise, scientists have long conceptualized variations in cells comprising the different tissue compartments in the human body. Yet, even in seemingly uniform cell populations within subcompartments, cell-cell heterogeneity is becoming more evident, far beyond what was previously expected.
Figure 1.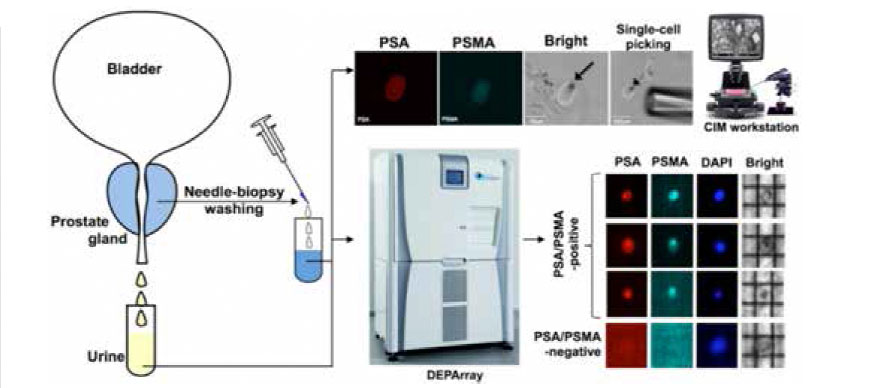 Single-cell isolation and characterization using CIM and DEPArray systems, respectively. Individual PSA/PSMA-positive prostate epithelial cells have been isolated from urine or needle biopsy washes for downstream analysis using BioMark or AFM. The same approaches will be used to isolate epithelial cancer cells and the associated stromal fibroblasts from endocervical brushes and to isolate circulating rare cells from blood samples of cancer patients.
Here at The University of Texas Health Science Center at San Antonio, we have developed the Single-Cell Biopsy and Characterization Core (SBCC), which recently received prestigious funding from the Cancer Prevention and Research Institute of Texas (CPRIT).