Charles M. Bane, MD
Established just nine years ago via the merger of three specialty practices and 14 physicians, Dayton Physicians Network, an independent, Ohio-based oncology group practice, has experienced rapid growth, fueled in part by increased Medicaid enrollment and profits from their oral drug dispensing program.
"Medicaid is now the fastest-growing segment of our business. Basically, Medicaid volume has doubled in the past few years," said Robert Baird, CEO.
"Physician dispensing of oral oncolytics has been a significant revenue generator for us, as well," added Charles M. Bane, MD.
As competition for the pharmacy and Medicare/Medicaid dollar intensifies and major regional players expand their operations, only time will tell if the Dayton physicians will be able to maintain their performance. Dayton, whose three original specialty practices were medical oncology, radiation oncology, and imaging and urology, now encompasses 36 physicians, seven midlevel providers, and 350 employees at 18 practice locations (six of which are cancer centers), serving roughly 43,000 patients in several counties—a population of urban, suburban, and rural patients, many of them older adults. Baird estimates that roughly half of their patients are covered by Medicare.
The Dayton Market
Key rivals include larger hospital and health systems, such as Kettering Health Network—a conglomeration of eight hospitals, nine emergency departments, and 120 outpatient facilities staffed by 2,100 physicians and almost 11,000 employees throughout southwest Ohio—which is currently building a $49-million, five-story, 120,000-square-foot cancer center slated to open late next year in Kettering, Ohio, right in the heart of the Dayton group's practice area. Also competing with Dayton is Premier Health Specialists, a group of 40 specialty practices with a roster of more than 20 oncologists.
Although Dayton's current oncology landscape is now highly competitive, some of the factors that have enabled the organization to more than double its size in less than a decade include timing and geography. There are no large, prestigious teaching institutions in the immediate area on the level of the Cleveland Clinic, for example, which is located more than three hours away.
Figure 1. Projected Growth by Payer: 2015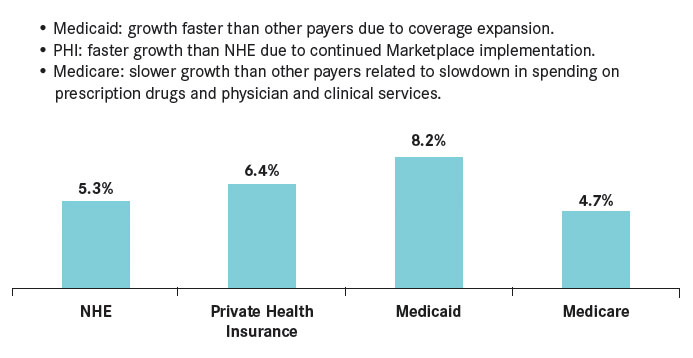 Source: CMS, Office of the Actuary, National Health Statistics Group, July 28, 2015.
Statewide, Medicaid enrollment is up sharply due to the fact that Ohio is one of 25 states that opted to expand Medicaid coverage eligibility (to encompass all those with an income at or below 138% of the federal poverty level) under the Affordable Care Act (ACA).
1
Passage of the ACA has driven a simultaneous increase in the size of the Dayton practice's Medicare patient population. Post-ACA, Ohio has the 13th best uninsured rate in the nation.
2
Figure 2. Average Annual Growth for Major Payers: 2016-2018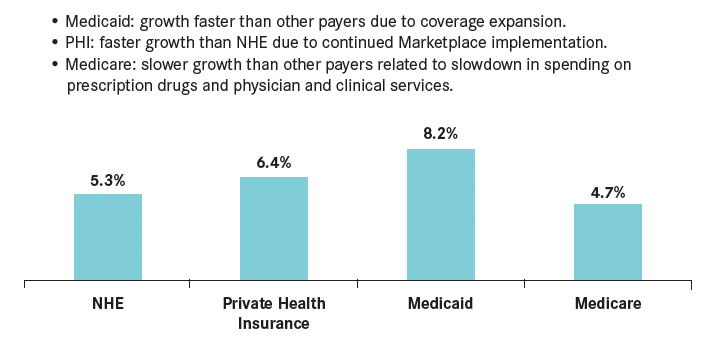 Source: CMS, Office of the Actuary, National Health Statistics Group, July 28, 2015.
In addition, Dayton has benefitted from federal and state government efforts (in accordance with ACA-related objectives and supported by many large private payers) to incentivize a move away from traditional fee-for-service reimbursement toward more value-based forms of compensation and care.
3
The network is currently in contention for, and in the past has been awarded, sizeable grants from the Centers for Medicare & Medicaid Services to facilitate various test programs designed to enhance care delivery efficiency. Favorable conditions, of course, do not guarantee favorable results. Moreover, ACA-fueled growth, although welcome, is not without its own set of hurdles, most of them financial in nature
(Figures 1,2)
. "The tough part about Medicare," said Baird, "is reimbursement cuts and a rise of patients on exchange products that have very high out-of-pocket expenses and very high deductibles."
In-house Dispensing
Dayton officials said there is one trend in particular that has been very good to them. The increasing prominence of oral oncolytics is transforming the manner and setting in which cancer care is delivered, and, in doing so, creating a host of uncertainties for clinicians. As the site of chemotherapeutic care moves from the physician's office to the patient's home, many practitioners have expressed fears of losing fiscal and clinical control, as well as concerns regarding patient compliance and safety.4 Dayton viewed the expanding oral oncolytic market as an opportunity, Baird said. Because the cost of a single specialty oncolytic therapy medication can easily exceed $10,000 on a monthly basis, even at relatively narrow standard margins (which tend to range from 5%-6%), in-house dispensing of oral oncolytics can potentially yield significant fiscal benefits.
4