Jeffrey Vacirca, MD
The signing of the Budget Act of 2015 may have brought to a screeching halt much of the hospital merger activity that has characterized the community oncology practice sphere in recent years. Section 603 of the act removes a strong incentive for acquisitions—the right to bill at hospital rates for services rendered at outpatient, off-campus locations. The site-neutrality provision of the law—intended to eliminate wide payment disparities between hospital and private practice locations—is nowhere near the complete solution that critics of unequal payments had sought.
The provision applies only to practices acquired on or after November 2, 2015, and owing to a 14-month grace period, the payment adjustments do not kick in until January 1, 2017.
However, given the pace of acquisitions in recent years, it is fairly certain that the repercussions in the oncology setting alone will be widespread, said Teri Guidi, president and CEO of Oncology Management Consulting Group of Pipersville, Pennsylvania.
"For the [deals] that are in progress, I'm sure people are scrambling, trying to figure out what to do. 'Do we back out of it now?' 'Do we try to take the year while it's still under the outpatient prospective payment system (OPPS) and then just go to the physician fee schedule in 2017?'"
Merger and acquisition activity has been robust, largely on the strength of the OPPS Medicare income that hospitals can reap by absorbing the infusion elements of oncology practices, Guidi said. According to a survey of its oncology practice membership in 2014, the Community Oncology Alliance (COA) indicated that 544 practices had been acquired by hospitals since 2008 and 149 had merged with or been acquired by corporate entities other than hospitals.
Table 1. Unadjusted Chemotherapy Episode Costs, Offices Versus Hospital Outpatient Departments (HOPDs)a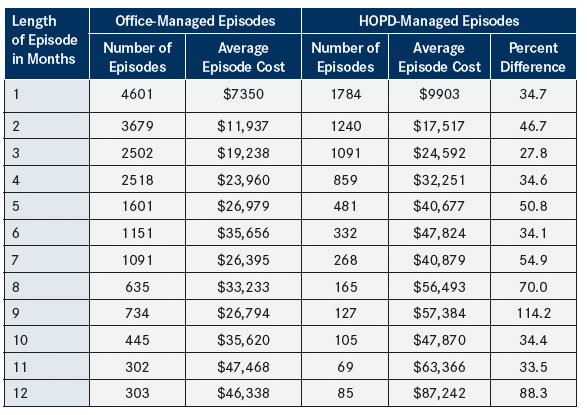 aCosts include all care received by patients during chemotherapy episode, including some care unrelated to the provision of chemotherapy
Source: Avalere Health analysis of National Association of Managed Care Physicians (NAMCP) member data.
COA has embraced the move toward site-neutrality. "We're providing the same or better care in many instances. Why should we be paid less?" asked Jeffrey Vacirca, vice president of the COA and an oncologist with North Shore Hematology Oncology Associates of Long Island
(Tables 1,2)
.
Still a Need for Parity
That said, more needs to change before community practices feel they are receiving fair payment, Vacirca added. "This is not the parity that we were looking for." He and others are hoping that pending legislation will address the broader issues. "If we're going to recognize that moving forward we're not going to pay augmented rates for these practices that are going to be acquired by hospitals, why should we be paying them now?"
Site-neutrality was a central topic of discussion at an October COA summit on payment reform, Vacirca said. He said it was a surprise to participants that the Budget Act got as much legislative support as it did. The Senate approved it 64-35 and it passed in the House by a vote of 266-167. Section 603 of the act is relatively short, and because of its narrow scope, there are unanswered questions that leave it unclear how the law will be implemented, said Guidi and others. It cannot be predicted with accuracy at this time how the Centers for Medicare & Medicaid Services (CMS) and the Health Resources and Services Administration (HRSA) will interpret the new law, how cost reporting compliance will be done, and whether 340B drug discount access will be affected, Guidi said. "I'm sure they delayed it one year to give everybody time to figure it out."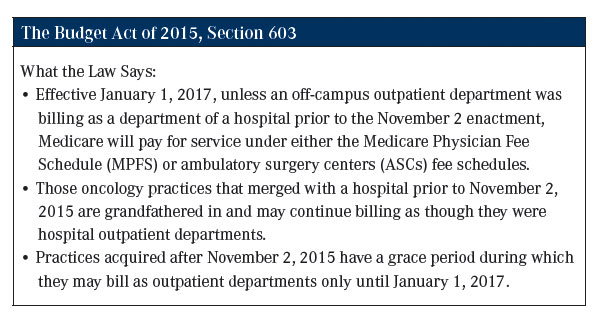 Although 340B—another significant driver of merger and acquisition activity— is not specifically mentioned in the act, "It's entirely possible that HRSA will step in and say something about off-campus provider–based centers not being eligible to purchase under 340B," Guidi said. "That could make a mess."