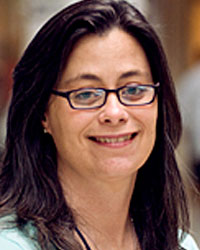 Colleen S. Delaney,
MD, MSC
Associate Member, Clinical
Research Division
Director, Cord Blood
Transplantation Program
Fred Hutchinson Cancer Research Center/Seattle Cancer Care Alliance
Associate Professor, Pediatric Hematology/ Oncology
University of Washington School of Medicine Seattle, WA
The perception that cord blood is an inferior source of stem cells is simply not accurate and may result in delays in lifesaving treatment for patients. At Seattle Cancer Care Alliance (SCCA), outcomes with cord blood are equivalent to those with matched unrelated donors. If a patient does not have a matched donor, we don't hesitate to go straight to cord blood. We don't wait to find that perfect match because if a donor is not identified immediately, there likely won't be one identified within the time frame needed to save that patient's life.
With cord blood transplantation, there is a donor for nearly everyone who needs a transplant. And cord blood—collected, stored, and typed—is more rapidly available and can shorten the time it takes to identify an adult volunteer unrelated donor.
Tailoring the Transplant to the Patient
The key to excellent outcomes with cord blood is picking the right transplant for the right patient. That's the beauty of being here in Seattle. SCCA has performed more than 14,000 transplants— more than any other institution in the world. We can tailor the transplant and the donor source to the individual based on his or her risk factors. For example, for a patient with a leukemia who has relapsed a second time and has barely made it to remission, we can use a more mismatched cord blood donor to reduce the risk of relapse. The mismatch likely contributes to a better graft-versus-leukemia effect. In fact, studies at Seattle Cancer Care Alliance (SCCA) and other transplant centers have shown that patients with hematologic cancers tend to relapse less frequently after cord blood transplants than they do after conventional unrelated donor transplants.
In an SCCA study presented at the 2014 American Society of Hematology (ASH) Annual Meeting,
1
a documented lower risk of relapse in cord blood recipients suggested that cord blood should be considered first in younger patients with hematologic malignancies at high risk of relapse who lack a human leukocyte antigen (HLA)-matched sibling donor
(Infographic, on page 2)
. The trade-off for this relapse advantage, however, is a higher risk of early transplant-related complications due to the late recovery of white blood cells after a cord blood transplant. These competing risks tend to cancel each other out, which explains why overall survival after cord blood transplantation is now generally considered equivalent to that seen with matched unrelated donors.
Universal Donor Stem Cell Bank Recently, we have been testing the expansion of cord blood-derived hematopoietic stem and progenitor cells to generate an expanded progenitor cell product that can be cryopreserved for future use as a non-HLA–matched product, or as a universal donor. The goal is to create a bank of universal donor stem cells that provide early support for newly transplanted patients who are lacking platelets, white blood cells, and red blood cells.
The process involves isolating rare hematopoietic stem and progenitor cells out of the cord blood unit and culturing them with delta 1, a protein that induces Notch signaling in these hematopoietic stem cells. When stimulated by delta 1, the Notch signal inhibits the differentiation of the stem and progenitor cells while dividing in culture. For every stem and progenitor cell cultured, about 250 to 500 new stem and progenitor cells are generated. The process takes 14 days, and the expanded cells are frozen for later use.
Cord Blood Transplantation at a Glance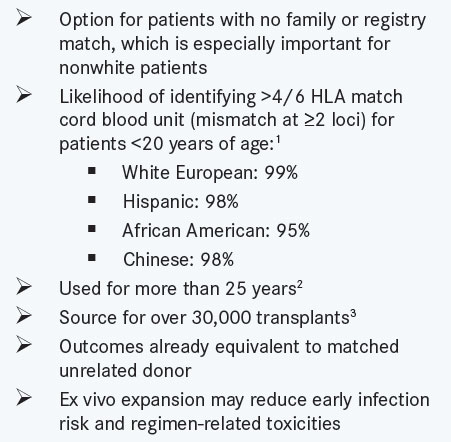 1. Gragert L et al. N Engl J Med. 2014;371(4):339-348. 2. Ballen KK et al. Blood. 2013;122(4):491-498. 3. Wagner JE Jr et al. N Engl J Med. 2014;371(18):1685-1694.
An advantage of this approach is that these cryopreserved expanded cell products are waiting for the patients, rather than patients waiting for them. In addition, instead of patients getting only the approximately 100,000 to 200,000 stem/progenitor cells per kilogram body weight achieved with a typical cord blood transplant, they can receive 5, 10, or 20 million cells per kilogram.