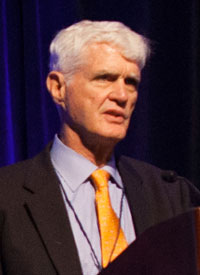 Paul A. Bunn Jr, MD
When Paul A. Bunn Jr, MD, arrived at the University of Colorado School of Medicine in 1984, there was no National Cancer Institute (NCI)-designated cancer center in the region. The Division of Medical Oncology had only four medical oncologists associated with the facility and a handful of patients participating in clinical trials. Today, the center boasts 55 faculty members in its Division of Medical Oncology alone and an overall clinical trial enrollment of more than 6000 patients a year.
And, the center is among the nation's premier research hubs, which includes serving as an NCI-designated consortium for the growing Mountain State region and as a principal site for developing emerging therapies for patients with lung cancer.
These milestones have been reached in no small measure thanks to the efforts of Bunn, who served as the center's first director for more than 20 years. Yet Bunn's impact upon cancer care extends far beyond the programs he helped build in Colorado.
Over the years, Bunn has served as president of the American Society of Clinical Oncology (ASCO), the International Association for the Study of Lung Cancer (IASLC), and the Association of American Cancer Institutes, and as chairman of the FDA's Oncology Drugs Advisory Committee. He was the federal government's principal expert witness in the United States of America v Philip Morris USA, the landmark legal battle against the tobacco industry in the 2000s.
And, the research team he helped build at the University of Colorado Cancer Center has investigated many of the new therapies approved in recent years for patients with lung cancer.
In recognition of his achievements, the Giants of Cancer Care® advisory board honored Bunn in May as the 2014 winner for Lung Cancer.
From his vantage point, Bunn takes an optimistic view of the progress that has been made against lung cancer during his career. "When I was a young man, we did trials in non–small cell lung cancer [NSCLC] at the NCI with 12 drugs in a row that no one responded to," Bunn recalled in an interview. "The median survival at the time was 5 months. That was grim. Now, if you have a molecular driver, the chance that a pill will bring you benefit is about 80%. The average survival of those patients is 3½ years. "So if you said to somebody, 'You're going to die in 3½ years,' it might not make them very happy—rightfully so," Bunn continued. "But if you said that a few years ago it would have been 5 months and that now it's 3½ years, you would say that some of our investment in cancer research is paying off."
At the same time, Bunn sees many remaining challenges. "Making the cure rate higher is a major unmet need," he said, as is improving the time for moving new treatments into curative settings.
A Push Toward Oncology
If it had not been for the Vietnam War, Bunn might never have explored a career in oncology research.
In 1971, shortly after the expiration of the education deferment that allowed young men to avoid the draft, Bunn obtained his medical degree from Cornell University Medical Center in New York City.
"When I was in medical school, I knew that I wanted to do something with internal medicine, but I didn't know what," Bunn said. He discussed his options with one of his professors, Richard T. Silver, MD, who today is director of the Leukemia and Myeloproliferative Center at New York Presbyterian-Weill Cornell Medical Center. Earlier in his career, Silver had worked at the NCI.
"When I suggested to him that I was interested in research and I was not interested in Vietnam, he said you could kill two birds with one stone and go to the National Cancer Institute, be in the public health service, meet your military obligation, and do research," related Bunn.
After an internship and residency at HC Moffitt Hospital at the University of California, San Francisco, Bunn was able to do just that. He prevailed amid stiff competition to land a position as a clinical associate in the NCI's Medicine Branch under the direction of Vincent T. DeVita Jr, MD, a 2013 Giants of Cancer Care award winner, and others.
For Bunn, it was the beginning of a quest to understand the biological and molecular underpinnings of cancer. He concentrated on preclinical studies delving into the biology of lung cancers and cutaneous T-cell lymphomas with many mentors and colleagues.