John R. Seffrin, PhD
There are few words more associated with the American Cancer Society (ACS) than education, which made the choice for the 2014 Giants of Cancer Care award for education an easy one—John R. Seffrin, PhD, who spent 40 years with the ACS before retiring in May. Seffrin says that eliminating cancer as a major public health problem requires both education and improved public policy, with an emphasis on elevating cancer prevention and ensuring access to quality healthcare.
"The ultimate conquest of cancer is as much a public policy issue as it is a medical and scientific challenge. The science alone is not going to be enough to eradicate the condition, especially if we don't deal with the issue of health disparities," Seffrin stated.
Seeing the big picture is what has propelled him since becoming chief executive officer of the ACS in 1992. He has been a tireless campaigner for tobacco prevention efforts including advocating increases in federal cigarette taxes and serving as a founding member of the Campaign for Tobacco-Free Kids. His leadership in global cancer issues has garnered international attention, along with honorary doctorates from four American universities.
And, notably, his vision has led to a remarkable transformation of the ACS itself, which evolved from an organization made up of 60 different boards to one that now has a standardized operating model. Seffrin initiated a transformation of the 102-year-old nonprofit in 2010 that led to a complete restructuring, merging 11 corporate divisions into one central organization and eliminating multiple governing bodies in favor of a single board of directors. The transformation centralized virtually all back-office services, streamlined the fundraising portfolio, and realigned staffing resources.
"Reorganization has allowed us to standardize services and gain efficiencies. We have one fiduciary board of directors that is half the size of the former national board, with a much greater ability to direct the priorities, goals, and resources of the entire organization. Previously, each corporate division was governed by its own board, each with its own budget and program of work," Seffrin explained. Implementing nationwide decisions was a slow, cumbersome process but the organization's new structure allows it to be very nimble. He has fielded calls from other large nonprofit organizations, such as the YMCA, who asked just how he was able to accomplish it.
In his 2011 paper,
How the American Cancer Society Will Help Bring Cancer Under Control Earlier in the 21st Century: A Moral Imperative
, he pointed out that the world was changing and the previous operating model—how the organization was structured and governed, how decisions were made, and how the organization did business—fundamentally had not.
"Although we have made great progress with our current model, going forward it will allow, at best, for only incremental progress," he wrote. The ACS would not be able to make the kind of progress that it otherwise could if it did not change. He had data to show the progress made in research, treatment, education, and prevention that reduced cancer deaths over the years, but he also showed that there were thousands more lives that could be saved.
"Very few organizations have been able to publish data and show the kind of progress made in terms of reducing death rates and lives being saved. But, by the same token, we have lots of data to show that the number of lives saved could be a lot more if we were able to do business differently," Seffrin said.
Early Influences
Seffrin's first encounter with cancer dates to his childhood. His grandmother, who was living with his family at the time, died of cancer when he was 10 years old. He has since lost his mother to cancer, and his wife, Carole, is a breast cancer survivor.
A significant influence in Seffrin's life was his mother, who always believed he would do something important. She always saw the good in people, Seffrin said. "And she instilled in me the importance of being a forgiving person. In your professional life, if you can truly forgive, then you can move on. And this helps you stay the course and continue to lead."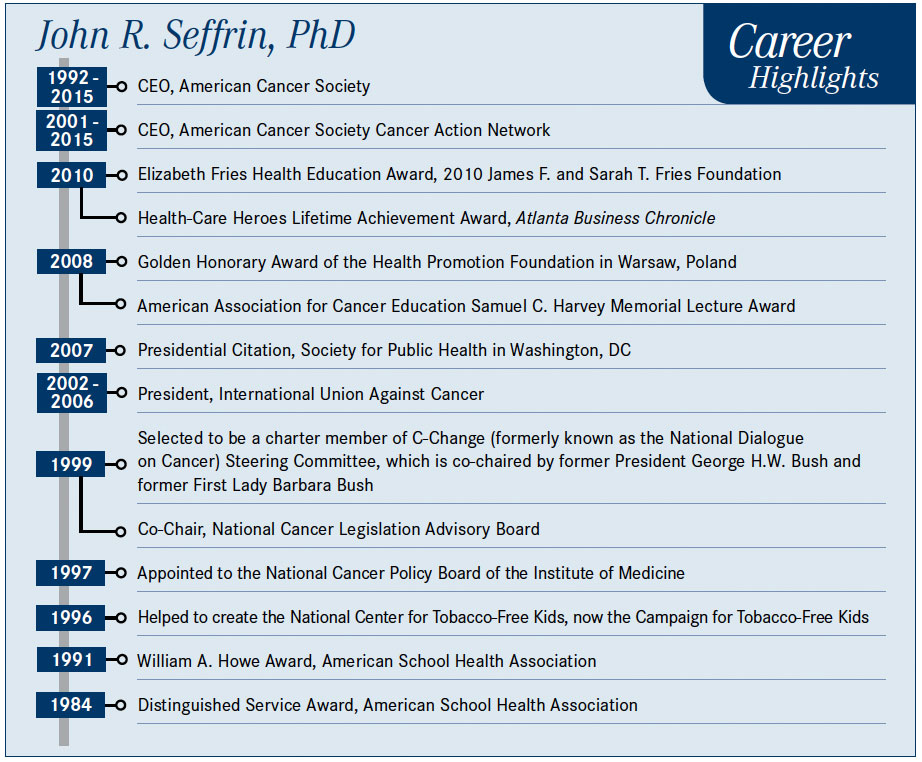 The first step in forgiveness is understanding, and Seffrin's favorite novel,
To Kill a Mockingbird
, emphasizes the role of understanding the human condition. He said the level of writing in the novel is remarkable and is a key reason why he considers it a classic. "I grew up in the North, so it helped me better understand the Southern point of view," he said.