Michael Giordano, MD
In the three years since the FDA launched its breakthrough therapy program,
1
the designation has become a coveted status for emerging agents as biopharmaceutical companies scramble to make their mark in an increasing competitive environment.
The program is aimed at facilitating the development of treatments that have the potential to be transformative for patients, which has proved to be a major challenge under the traditional clinical trial paradigm.
As the oncology community looks forward to a new year of drug discovery,
OncologyLive
spoke to advocacy groups, drug industry experts, and healthcare providers to gain insights on this important designation and its potential to transform the future of cancer care.
Ushering in the Breakthrough Designation
Historically, development of new drug products required completion of three distinct clinical trial phases: (1) a small phase I study to determine safety, tolerability, and dosing; (2) a larger phase II study to determine preliminary efficacy and tolerability; and (3) one or more phase III studies comprising hundreds to thousands of patients to more definitely demonstrate efficacy and tolerability.
2
On average, this clinical development process can take anywhere between 7 and 12 years.
2,3
"Because molecularly targeted therapies are directed toward patients with a specific genetic alteration, it may be a relatively small number who are predicted to benefit from them. In rare genetic subsets, and particularly for patients who have few, if any, effective treatment options, the traditional lengthy drug development paradigm does not work well for patients or drug manufacturers," said Jeff Allen, PhD, executive director, Friends of Cancer Research, a nonprofit cancer research advocacy organization based in Washington, DC, in an interview with
OncologyLive
.
Table 1. Summary of FDA's Expedited Drug Approval Programs for Serious and Life-Threatening Conditions*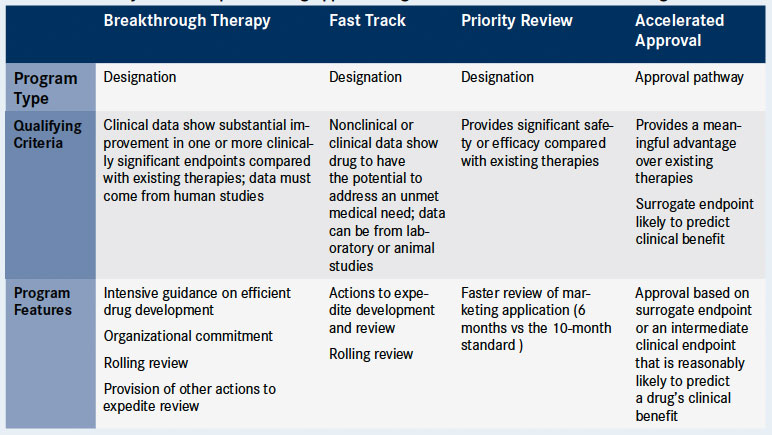 *This table is based on the expedited drug approval criteria outlined by the FDA and several other US health agencies.5 These programs make certain actions available to drug sponsors to further more rapid drug development. Many drug development programs qualify for and apply to more than one of these programs.
"By condensing the multiphase pathways for such treatments that show remarkable early clinical data, such as by basing drug approval on large treatment effects in smaller phase studies or by measuring intermediate endpoints, we can more rapidly provide sick patients with better treatment options," he said.
In November 2011, Friends of Cancer Research published a white paper in collaboration with the Brookings Institute that outlined new drug development pathways for treatments that show large treatment effects early on in clinical development.
4
Around the same time, the FDA indicated that it had set a goal to identify ways to expedite drug development for exceptional new drugs.
4
"Leveraging the FDA's goals and our work with partners in all sectors, in just 13 months we took 'breakthrough' from concept to a program in full use by the FDA to expedite approval of potentially transformative treatments," said Allen. The breakthrough designation became part of the FDA Safety and Innovation Act of 2012, which was signed into law on July 9, 2012.
1
This new designation added a fourth program to the FDA's expedited drug development program
(Table 1)
.
5
During its first year of implementation, 29 breakthrough designations were granted, with some drugs gaining the status for more than one indication.6 Then on November 1, 2013, the first drug with a breakthrough designation received full FDA approval.
6
The drug, obinutuzumab (Gazyva), was approved for use in combination with chlorambucil in patients with previously untreated chronic lymphocytic leukemia (CLL).
7
The time between receiving the designation and full approval was just 5.5 months.
6
Approval was based on the results of a randomized, multicenter study that included 356 patients with previously untreated CLL who received obinutuzumab in combination with chlorambucil versus chlorambucil alone. Participants who received the obinutuzumab/chlorambucil combination had a significant improvement in progression-free survival (PFS) compared with those receiving chlorambucil monotherapy, with an average PFS of 23 months versus 11.1 months, respectively.