Philip W. Kantoff, MD
If he had to choose another career, Philip W. Kantoff, MD, said he'd really enjoy being in a classic rock band or playing professional basketball. "I love Led Zeppelin, the Grateful Dead, the Allman Brothers, AC/DC, Queen," he said excitedly in a telephone interview. "I still go to concerts. One of the most fun things I ever did was when I took my son to London to see Eric Clapton at the Royal Albert Hall in London about three or four years ago."
But Kantoff knows where his strongest talents lie. "I really enjoy music," he said. "I play the piano— but with no proficiency. I also play basketball, tennis, and golf—again, with no proficiency. It's a good thing I have my day job."
Leading and Pioneering
But musical skills aside, Kantoff has proved to be a rock star in that day job—as a giant in the field of prostate and genitourinary cancer research.
In November, Kantoff was named chairman of the Department of Medicine at Memorial Sloan Kettering Cancer Center (MSK) after nearly 30 years at the Dana-Farber Cancer Institute and Harvard Medical School.
"We are ecstatic to have been able to recruit Dr Kantoff to lead MSK's already superb Department of Medicine," said MSK's Physician-in-Chief, Jose Baselga, MD, PhD, in announcing the appointment. "His astute leadership qualities and strong record of clinical and research experience will prove invaluable as we work together to usher this institution into the future and continue our tradition of excellence."
Kantoff said he is excited about his appointment. "At MSK, we aspire to achieve a great blend of care and innovation. Our goal in the Department of Medicine is to deliver cutting edge patient-centric care, bring fundamental discoveries to the clinic to reduce the burden that cancer causes, and develop the next generation of leaders in the field of cancer medicine," he said. Known for his work in identifying genetic markers of prostate cancer, Kantoff also has helped bring several prostate cancer drugs to the market, such as the chemotherapy mitoxantrone and the therapeutic vaccine sipuleucel-T.
At Dana-Farber, he served as director of the Lank Center for Genitourinary Oncology, chief of the Division of Solid Tumor Oncology, and the head of the prostate cancer program—all programs he developed from their infancy into the robust areas they are today, with about 20 physicians and scientists and many more postdoctorate candidates and fellows involved.
He also oversaw the prostate cancer SPORE (Specialized Program of Research Excellence), a multimillion dollar grant from the National Cancer Institute for the past 12 years that funds a number of different projects.
Such variety means Kantoff's weeks are never dull. He typically spends about half his time on research activities, and divides the rest between administrative and clinical tasks. The time spent with patients, he said, is the most rewarding. Watching patients get well is "one of the great moments when you are an oncologist," he said.
"Taking a very sick testicular cancer patient and curing them is one of the most remarkable feelings. It's such a rewarding part of what we do." Kantoff has also earned praise from others for his ability to teach and heal.
"In addition to his brilliant research career, Phil embodies the finest attributes of a physician and mentor," said Lee Marshall Nadler, MD, the dean for clinical and translational research at Harvard Medical School in Boston. "He also deeply cares about his colleagues, faculty, trainees, and staff. Everyone who works for Phil knows that he will treat them with respect, and remain loyal to them even when they leave his program. This has been true from the time he was a junior faculty member until today."
The Birth of a Molecular Biologist
Kantoff's interest in science and medicine sprouted as a child. He learned from his father, Sidney, who studied and taught entomology as a young adult before working in the clothing business, while living in Forest Hills, New York.
"My father had wanted to be a doctor but did not get a scholarship to go to medical school and as an orphan, couldn't afford to go," he said. "Instead, he studied insects, and spent a lot of time with me as a kid teaching me what he knew."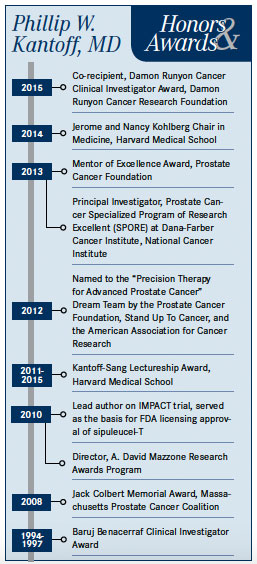 Father and son pored over bug classifications, and soon, young Phil was hooked on molecular biology, reading books about early science and medicine such as Microbe Hunters and The Citadel. "These were fascinating accounts about people who moved from different fields like math or physics into biology and became early scientists who studied molecular biology, which led to the evolution revolution in biology."