Since the approval of ipilimumab (Yervoy) for the treatment of patients with metastatic melanoma in 2011, the targeting of immune checkpoints— signaling pathways that regulate the activity of T cells—has gone from strength to strength.
Impressive, durable responses have been observed in a variety of tumor types for which conventional therapies historically have had limited success. Thanks to an improved toxicity profile, agents that target programmed cell death-1 (PD-1) and its ligand, PD-L1, have been garnering most of the attention in the field, shifting the focus away from the cytotoxic T-lymphocyte antigen-4 (CTLA-4) checkpoint at which ipilimumab is aimed.
Yet it is becoming increasingly clear that PD-1/ PD-L1 and CTLA-4 represent just the tip of the iceberg when it comes to manipulating the immune system to fight cancer, and the number of known checkpoints—and with it the list of potential drug targets—has expanded in recent years. These include targeting inhibitory receptors, which release the brakes on the antitumor immune system, and costimulatory receptors, which hit the accelerator. Biotech startups and university spinoffs are competing with larger companies already heavily invested in the immune checkpoint market to develop drugs against these new targets, fueling the clinical development of agents with diverse mechanisms of action.
A View of the Immune Microenvironment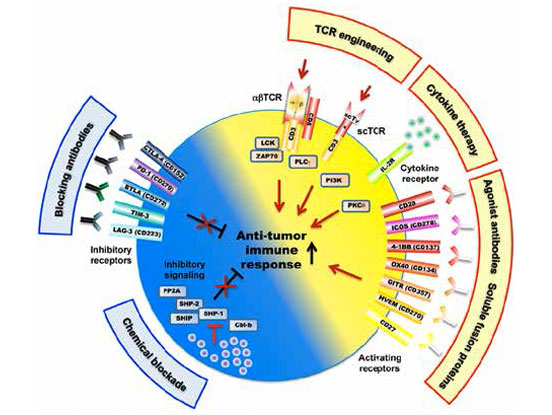 The immune system signaling networks that regulate T-cell functions offer many potential targets.

Hebeisen M, Oberle SG, Presotto D, et al. Molecular insights for optimizing T cell receptor specificity against cancer. Front Immunol. 2013;19;4:154. doi: 10.3389/fimmu.2013.00154. eCollection 2013.
Although progress in the field has been undeniable, many researchers feel the next significant advancements are most likely to come from combination therapy. Indeed, 2015 witnessed the first FDA approval of a combination regime of immune checkpoint inhibitors (nivolumab and ipilimumab) and this is quickly becoming a central focus of ongoing research with emerging and established drugs.
Harnessing Immune System
It is well understood that cancer cells evolve the ability to overcome the immune response mounted against them by hijacking immune checkpoint pathways. The term immune checkpoint generally refers to a range of receptors expressed on the surface of immune cells that regulate their activity. In normal cells, checkpoint pathways play an important role in activating the cytotoxic T cells of the immune system. T cells are activated when they encounter antigen-presenting cells (APCs) bearing foreign antigens, which engage the T-cell receptor (TCR). This is coupled with a second signal that determines whether the T cell is turned on (a costimulatory signal) or off (a coinhibitory signal) in response to a particular antigen. This second step is vital in ensuring that the immune system does its job effectively, without attacking normal cells.
Cancer cells subvert this process by altering the expression of various components of the immune checkpoint pathways to achieve their end goal—suppressing the activation of T cells. This essentially provides them with a means of "masking" themselves from the antitumor immune response. Thus, the immune-oncology field embraced the development of drugs targeting the immune checkpoints in hopes that these would allow tumor-infiltrating T cells to once again seek out and destroy tumor cells.
PD-1 and CTLA-4 Start Trend
Both PD-1 and CTLA-4 are inhibitory immune checkpoints, meaning that their normal role in the cell is to switch off the T cell. Thus far, the drugs that are currently approved or in development are antagonists that seek to block the activity of PD-1 and CTLA-4, which are highly expressed on the surface of tumor cells.
In the anti-PD-1 category, the FDA has approved nivolumab (Opdivo), which has indications in melanoma, non–small cell lung cancer (NSCLC), and renal cell carcinoma; and pembrolizumab (Keytruda), which also has been approved in melanoma and NSCLC. As of now, ipilimumab remains the only CTLA-4–targeting drug to gain approval, but more inhibitors of this checkpoint are in development.
Meanwhile, basic scientific research has uncovered more detail about the complexities of immune checkpoint signaling, and numerous new inhibitory and stimulatory targets are being explored.
Inhibitory Receptors

LAG-3
Lymphocyte activation gene 3 (LAG-3) is a member of the immunoglobulin superfamily of receptors and a homolog of CD4, which is expressed on a number of different types of immune cells, including T cells. It negatively regulates T-cell proliferation and activation in a manner similar to that of CTLA-4 and PD-1. It is also thought to play a role in the suppressive functions of T-regulatory cells and in the maturation and activation of dendritic cells.