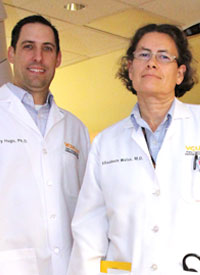 Elisabeth Weiss, MD
Radiation Oncologist and Professor of Radiation Oncology
Geoffrey Hugo, PhD
Medical Physicist and Associate Professor of Radiation Oncology
Both are members of the Radiation Biology and Oncology research program
The Department of Radiation Oncology at Virginia Commonwealth University Massey Cancer Center has long been at the forefront worldwide in the development of various radiation therapy technologies that are now considered standard and have become widely available. Among those advancements is four-dimensional computed tomography (4D CT), where Massey has been among the principal developers. Massey also has a long tradition of implementing newly developed technology into clinical practice, such as respiratory gating, audiovisual biofeedback for respiration regularization, and implantation of fiducial markers for improved visualization of tumors during radiation treatment. In addition, VCU was one of the first to apply stereotactic radiotherapy techniques for lung tumors and other locations outside the brain.
The current standard of care for inoperable locally advanced lung cancer is a combination of chemotherapy and radiotherapy. However, despite many efforts to improve radiotherapy, the 5-year survival rate is only about 20%. Radiation oncologists face many challenges throughout the treatment process. High-quality images with good resolution are essential for radiotherapy planning, but they are complicated to acquire. Defining the microscopic boundary of malignant tumors can be particularly difficult because tumors move during imaging as the patient breathes.
Even with high-quality imaging, there are many potential sources of error throughout several weeks of daily treatments. Variations in patient position, tumor movement during respiration, and tumor deformation all make reliably targeting tumors during daily treatments especially difficult.
Setting New Standards
18F-fluorodeoxyglucose positron emission tomography (FDG-PET) is the current standard for functional imaging of lung tumors. FDG-PET is able to distinguish lung tumor volumes with active dHuisease from noncancerous conditions, since the rapidly metabolizing cancer cells absorb the injected FDG trace much more than healthy tissue. FDG-PET is therefore used prior to treatment to detect tumors and any potential tumor spread such as involved lymph nodes or metastases in other organs. The functional imaging feature also makes it helpful to determine changes in metabolic tumor activity as a response to therapy.
Unfortunately, FDG-PET also has several limitations. It has poor spatial resolution, the measured signal can be affected by the presence of inflammation, and the injection of the FDG tracer every time imaging is performed exposes the patient to additional radiation. New imaging techniques for lung cancer are urgently needed.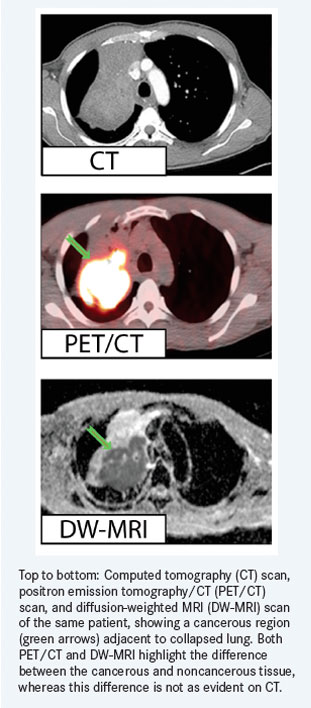 This is why we are conducting a pair of unique, clinical studies developed at Massey assessing the use of magnetic resonance imaging (MRI) for treatment planning purposes and to observe changes in tumor volumes and tumor activity during treatment. The first study (NCT01859338) compares MRI with conventional CT imaging. The second clinical trial (NCT02059889) compares MRI with FDG-PET imaging.
MRI may hold key advantages over FDG-PET while providing similar performance for detecting tumor and tumor deposits and for differentiating between benign and malignant tissue. MRI is typically more readily available than FDG-PET. It has excellent soft tissue visualization and higher image resolution, and it provides both morphological and functional imaging information.
While MRI has not typically been used in chest imaging due to artifacts originating from respiration and heartbeat, MRI technology has advanced recently. For example, strong gradients, multichannel imaging, cardiac pulsation- and respiration- triggered imaging, and fast pulse sequences have all increased its utility in radiation therapy planning and treatment assessment.