Daniel P. Petrylak, MD
Emerging agents targeting the PD1/PD-L1 pathway and the process of angiogenesis are shaping up to be promising options to break a 30-year drought in new therapies for patients with progressive metastatic urothelial bladder cancer.
Checkpoint inhibition therapies aimed at PD-1/PD-L1 activity are undergoing phase II and III trials intended to confirm initial observations of safety and efficacy in second-line settings. In addition, antiangiogenic therapies, particularly monoclonal antibodies targeting VEGFR-2, may act as chemosensitizing agents in combination with docetaxel. A phase III study evaluating ramucirumab (Cyramza) plus docetaxel has been launched.
That was the broad overview that Daniel P. Petrylak, MD, a leading expert in the field, presented during the New York GU™:
9th Annual
Interdisciplinary Prostate Cancer Congress® and other Genitourinary Malignancies conference that Physicians' Education Resource (PER) hosted March 19 in New York City.
Thus far, the development of new therapies to treat patients with bladder cancer has lagged behind other genitourinary malignancies such as prostate cancer and renal cell carcinoma, noted Petrylak, a professor of Medical Oncology and Urology and co-director of the Signal Transduction Research Program at Smilow Cancer Center at Yale University.
Indeed, there are no FDA-approved therapies for patients with metastatic urothelial bladder cancers who relapse on platinum-based chemotherapy, Petrylak said.
He noted that the chemotherapy agent vinflunine, which has been approved in European Union countries as second-line therapy, was among "some flickers on the landscape." However, he said that the drug resulted a difference in overall survival of about 2.3 months versus best supportive care, which he said could likely be achieved with any of the half-dozen salvage chemotherapy regimens that have been tried over the years.
Targeting the PD-1/PD-L1 Pathway
Although bladder cancers have a high rate of mutational complexity, the tumors also exhibit PD-L1 expression, which has sparked investigator interest in exploring checkpoint inhibitors aimed at PD-1/PD-L1 activity. In one study, 45% of patients with primary urothelial carcinoma tested positive for protein ligand PD-L1 expression on ≥5% of cancer cells by immunohistochemistry (IHC) testing.
1
Atezolizumab
Atezolizumab (MPDL3280A), a monoclonal antibody directed against PD-L1, is among the most advanced checkpoint agents in this category in terms of clinical development.
In mid-March, the FDA granted a priority review to atezolizumab as a treatment for patients with locally advanced or metastatic urothelial carcinoma who progressed during or after platinum-based chemotherapy in the metastatic setting, or whose disease worsened within 12 months of receiving platinum-based chemotherapy before or after surgery.
The agent previously received a breakthrough therapy designation for PD-L1–positive metastatic bladder cancer. Under the expedited priority review program, the FDA will make its decision by September 12, 2016.
Petrylak reviewed data from the phase II IMvigor 210 study, which forms the basis for atezolizumab's priority designation. The study enrolled 310 evaluable patients with a median age of 66 years; they received atezolizumab intravenously at 1200 mg on the first day of each 21-cycle until no further clinical benefit was demonstrated.
The site of primary tumor was the bladder for 74% of patients, with metastasis to visceral sites (defined as liver, lung, bone or non-lymph node/soft tissue site) reported for 78% of patients and to the liver in 31% of patients.
2
Key Immunotherapy Trials in Bladder Cancer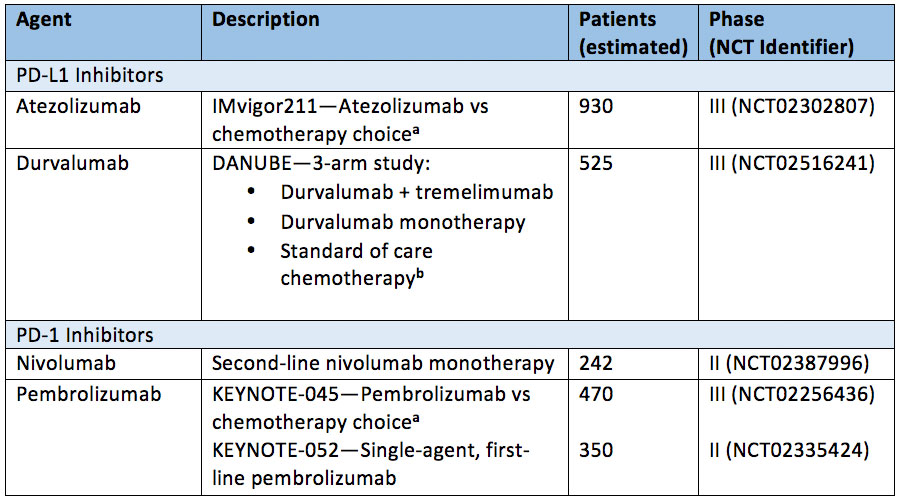 aInvestigator's choice of paclitaxel, docetaxel, or vinflunine
bCisplatin + gemcitabine or carboplatin + gemcitabine, based on cisplatin eligibility
PD-L1 expression status was assessed on infiltrating immune cells (ICs) in the tumor microenvironment using the Ventana SP142 IHC assay and stratified into three scoring levels: IC0 (<1%), IC1 (≥1% to 5%), and IC2/3 (≥5%).
Significant improvements in objective response rates (ORRs) compared with the historical ORR of 10% were seen across all groups, with ORRs increasing with higher PD-L1 expression levels, said Petrylak.