If we listen to our patients carefully, talk to them about their changing medical and emotional needs, and develop rapid and coordinated treatment plans, we can improve their quality of life and reduce their need for hospitalization for symptom management at the end of life. Integrating patient surveys to collect patient reported outcomes directly into electronic medical records and incorporating them into routine clinical care can be done in most hospital systems.
Leslie Blackhall, MD, associate professor of Geriatrics and Palliative Care at UVA, piloted the new palliative care program at the Emily Couric Clinical Cancer Center in 2012 for patients with advanced cancer by integrating an NIH PROMIS-based PRO database named MyCourse and tested the patient's ability to complete this questionnaire. MyCourse tracks emotional and physical well-being as reported by the patient, which is displayed longitudinally in the electronic medical record and is accessible to all healthcare providers showing the course of symptoms during the late stages of illness.
If certain symptoms, such as pain, escalate to a specified level, the system triggers an email alert that is sent to the nurse coordinator of a comprehensive assessment and rapid evaluation and treatment (CARE Track) palliative care team for rapid intervention. The CARE Track team meets weekly during a supportive care tumor board to develop rapid and coordinated care plans for highly symptomatic patients in an effort to respond more quickly to their needs.
Overall, 646 patients were enrolled into the CARE Track program over 30 months. Researchers compared end-of-life data from 368 deceased CARE Track patients with 198 patients in a cohort of matched deceased institutional controls
(Table)
.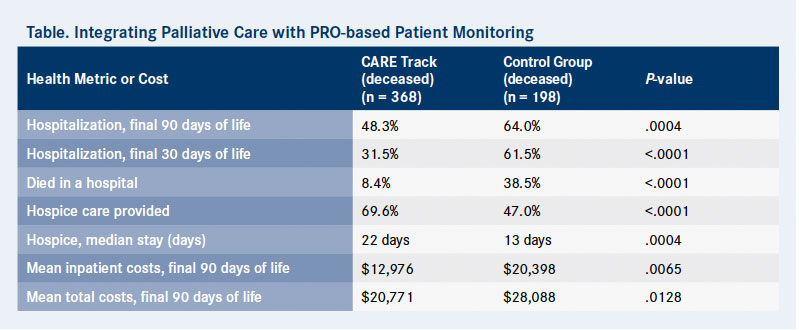 The 368 deceased CARE Track patients completed 967 patient-reported surveys. This cohort had significantly fewer end-of-life hospitalizations than controls; 48.3% were hospitalized within the final 3 months of life compared with 64% of the control arm (P = .0004). Further, more CARE Track patients received hospice care (69.6% vs 47%) and spent more days in hospice (median stay, 22 days vs 13 days; P = .0004) than patients in the control group. This resulted in fewer hospital deaths for the CARE Track patients compared with controls (8.4% vs 38.5%;
P
< .0001).
Results of a cost analysis showed these reductions in hospitalizations and hospital deaths decreased the mean total cost of care per patient by $7317 in the final 90 days of life (P = .0128). Mean inpatient costs in the final 90 days of life also were significantly lower ($12,976 vs $20,398;
P
= .0065).
To respond more quickly to pain, the UVA department of Radiation Oncology developed STAT RAD—a more rapid workflow for palliative radiation therapy for patients with bone metastases with the goal of turning a common two-to-three week treatment course into a 1-day treatment procedure with a highly focused radiation treatment (RT) to reduce treatment-related toxicity.
The STAT RAD pilot clinical trial enrolled 28 patients. The patients each had between one and three painful bone metastases (37 target lesions) and received RT of 5 Gy to 10 Gy per fraction, for between 2 and 5 fractions. An average of 21.6 Gy in 3.1 fractions was administered.