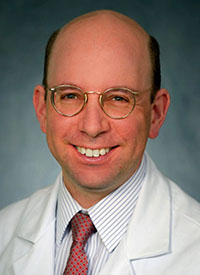 Alexander E Perl, MD
While there are many remaining therapeutic challenges for patients with acute myeloid leukemia (AML), recent advances with drug approvals and an improved understanding of how to treat patients with the disease are steps in the right direction, according to Alexander E. Perl, MD.
"The big difference this year, and I've been giving updates in AML talks for some time, is that we have new drug approvals in AML, which is exciting because the therapy for AML has really lagged behind the understanding of the disease at a biologic level," Perl said.
In an interview during the 2017
OncLive
®
State of the Science Summit
TM
on Hematologic Malignancies, Perl, an associate professor of medicine at Perelman School of Medicine at the University of Pennsylvania, discussed the future of FLT3 inhibitors, current obstacles with treating patients with AML, and what pivotal trial results the community can expect to hear in the coming months.
OncLive: What did you discuss in your presentation?
Perl
: We are getting better at defining which patients respond to which therapies in terms of targeted therapies—which is not a new idea, but a new option in the clinic. We have never had that before like we have now. Even with certain subsets, whether they are patients who respond to CPX-351 (Vyxeos), which is a different formulation of older chemotherapy, this seems to work better than the traditional way that we treated AML. That's an exciting advance, as well.
The drug gemtuzumab ozogamicin (Mylotarg) was removed from the market a bunch of years ago. It has now reentered the market, so we now have that as an option. There is an IDH2-targeted drug called enasidenib (Idhifa) that was just approved, as well as the drug midostaurin (Rydapt) for FLT3-mutated AML. There are a lot more IDH1/2 inhibitors and FLT3 inhibitors coming down the pike that are currently in development, so it's a start. It's not the last word and this is not going to be the only year where there are drug approvals.
The hard thing about this is, with so many to choose from, working up AML has actually changed because now we need to know more about our patients before we start on therapy—and that's new. We used to quickly get our patients treated and now we should slow down and say, "What's the best therapy for the patient based on information that's coming out?"
Similarly, pathologists need to keep up to speed with the clinicians in terms of providing genetic data, flow cytometry data, and other information to us at a pace that matches our need to treat patients, but it will all work out. It's just going to be a little bit of initial growing pains.
Can you discuss other inhibitors moving through the pipeline?
I can speak mostly about FLT3 inhibitors, which are drugs that I've been helping to develop. Midostaurin is actually a pretty old FLT3 inhibitor. It's one of the first drugs to ever be tested as a FLT3 inhibitor in the clinic and the first clinical trials of midostaurin were done in 2002; that tells you how long it has taken to get from early-phase studies to be an FDA-approved drug.
If we looked at that drug, it was relatively weak in terms of its potency against FLT3 and hit a lot of other targets. What has developed since that time are much more potent drugs and much more selective drugs, so now they are just FLT3 inhibitors and not multikinase inhibitors—which is a better description of what midostaurin is doing.
The 3 drugs that just jumped to mind are quizartinib, which is the first of the selective inhibitors, and then the drugs crenolanib and gilteritinib, which are drugs that can work to similarly do what quizartinib is doing. However, it also attacks some of its weaknesses in terms of resistance mutations that we had seen with that drug.