Kanwal Raghav, MD
Abstract
The existing therapeutic armamentarium for first-line treatment of metastatic colorectal cancer is diverse and includes both cytotoxics (5-fluorouracil, capecitabine, oxaliplatin, and irinotecan) and targeted therapies (anti-vascular endothelial growth factor-A antibody [bevacizumab], and anti-epidermal growth factor receptor antibodies [cetuximab, and panitumumab]). Patients with good performance status should be treated with a combination of cytotoxics and targeted agents. Cytotoxic chemotherapy should be a doublet composed of either 5-fluorouracil or capecitabine and oxaliplatin or irinotecan (FOLFOX, CAPOX, or FOLFIRI).

To this we add one of the biologic agents, either bevacizumab for RAS mutant (mutation in KRAS and NRAS [exon 2, 3 and 4]) or bevacizumab/cetuximab/panitumumab for RAS wild-type tumors. No one combination is superior to the other and choice should be chosen based on toxicity and mutational profile. In elderly patients, limited data have demonstrated a similar benefit from multi-agent chemotherapy, albeit at the cost of increased toxicity. Combination therapy should be considered carefully in elderly patients after appropriate clinical triage using comorbidities, functional status, and comprehensive geriatric assessment tools. Treatment plan should be driven by symptom control and quality of life measures.

Management of patients presenting with potentially resectable disease requires early identification of these cases and an integrated multidisciplinary approach. Contemporary efforts toward defining molecular subsets of colorectal cancer can potentially aid our ability to refine therapy and improve outcomes for patients with colorectal cancer.
Introduction
With an estimated 1.3 million new cancer cases and 700,000 deaths worldwide, colorectal cancer (CRC) is a major cause of cancer-related morbidity and mortality globally.
1
The incidence of CRC is higher in developed countries compared with developing countries, with the overall age-adjusted rate of 36.
3
per 100,000 population.
1
Despite the decreasing incidence of CRC, a total of 132,700 new cancer cases and 49,700 deaths are estimated to occur in the United States in 2015, making it the second most common cause of cancer-related mortality.
2
About 20% of all CRC cases are metastatic at diagnosis, and approximately 30% of all stage II and III CRC cases will develop recurrent metastatic disease after initial treatment.
3,4
Medical oncologists frequently encounter patients with metastatic CRC, and understanding the nuances of treating this disease is vital for improved outcomes in these patients. This review summarizes the existing evidence underlying the paradigm for treatment of metastatic CRC in the first-line setting.
Figure. Schema for Contemporary Therapy of Unresectable Metastatic Colorectal Cancer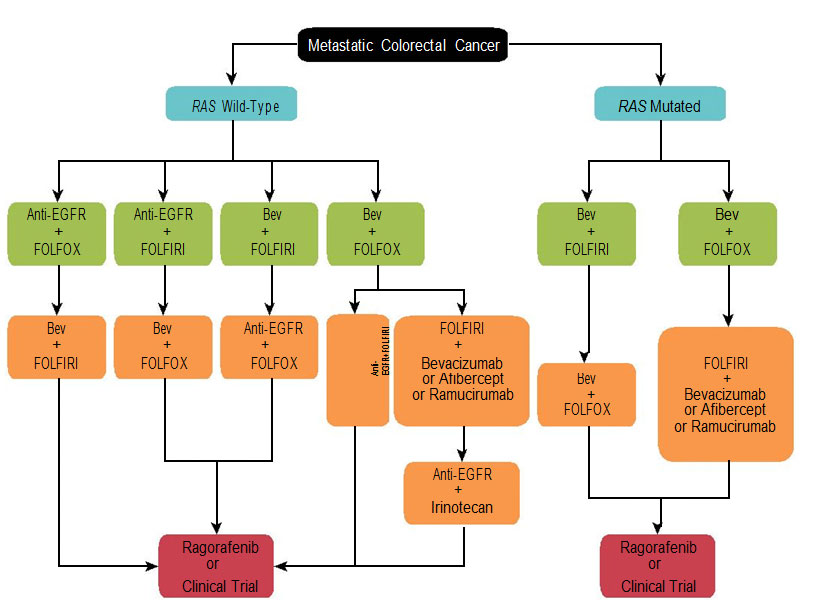 Anti-EGFR represents either cetuximab or panitumumab. 5-fluorouracil (5-FU) can be subsituted with capecitabine. Bevacizumab indicates bevacizumab; FOLFIRI, 5-FU and irinotecan; FOLFIRI, 5-FU and oxaliplatin.
An armamentarium of therapies has accumulated over the past few decades in metastatic CRC, leading to an incremental increase in the survival of patients with this disease. However, the composite array of cytotoxic and targeted therapies has made treatment of metastatic CRC relatively complicated. Currently approved agents for treatment of metastatic CRC include cytotoxics: 5-fluorouracil (5-FU), capecitabine, oxaliplatin, and irinotecan; and targeted therapies: bevacizumab, cetuximab, panitumumab, regorafenib, ziv-aflibercept, and ramucirumab
(Figure and Table)
.
5-15
Apart from regorafenib, which is approved for the refractory setting, and aflibercept and ramucirumab, which are approved for oxaliplatin-resistant patients, all other drugs can be used in the first-line setting.
13-15
Consequently, selecting the appropriate first-line therapy in patients with metastatic CRC is a complex and critical decision that medical oncologists need to make on a routine basis.