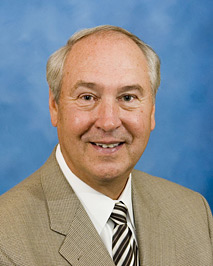 Gregory T. Wolf, MD
Researchers at the University of Michigan developed a novel approach to treating patients with advanced laryngeal cancer to improve on the historical survival rates of 50% to 60% in this setting. The new approach consists of administering a single dose of chemotherapy, continuing with chemoradiotherapy in patients who respond, and referring nonresponders to immediate surgery.
"We received survival rates that were in the 80% range," lead study author Gregory T. Wolf, MD explains. "This was so encouraging for us, that we decided to make it our standard approach for patients with advanced laryngeal cancer at the University of Michigan."
Of the 153 patients with stages III and IV advanced laryngeal cancer who were tested by Wolf et al, 71 received a single cycle of neoadjuvant chemotherapy. Partial tumor response was used to select patients for definitive chemoradiotherapy, whereas nonresponse was an indication for total laryngectomy. Patients with greater than 50% reduction were considered responders.
In an interview with
OncLive
, Wolf, professor and chair emeritus of Otolaryngology, Head and Neck Surgery at Michigan Medicine, discussed this trial and his hopes for the future treatment of patients with laryngeal cancer.
OncLive: Can you give an overview of your study?
Wolf:
What we published was a 10-year review of how we treat patients with all stages of laryngeal cancer. The focus was mainly on patients with advanced stage, that is stage III and IV disease, who are traditionally facing possible total laryngectomy as their treatment. Over the past 20 years or so, we've changed the treatment paradigm for these patients to focus on trying to preserve the larynx using a combination of chemotherapy and radiation as an alternative to total laryngectomy.
Although that approach has been widely adapted and viewed as successful, it's never improved the survival rates that could be achieved with surgery alone. In fact, in some large reviews including SEER data, it looked like during this interval from the 1990s to around 2010, that survival rates for this group of patients might be decreasing and that this corresponded to the increased use of chemoradiation for organ preservation purposes.
Back when combined chemotherapy and radiation approaches were being developed, we decided to capitalize on the observation that patients who achieved a response to induction of neoadjuvant chemotherapy had a very favorable prognosis and that it predicted the success of subsequent radiation therapy. Therefore, we began using a single cycle of chemotherapy as a biological indicator of response and using that to select patients for either chemoradiation, in an attempt to preserve the patient's larynx, or a primary definitive surgery, being total laryngectomy.
We ran a phase II pilot trial which began in 1995. We published in 2006 with long follow-up and for the first time, we achieved survival rates that were in the 80% range for patients that typically have survival rates of a 50% to 60% range. This was so encouraging for us that we decided that we would adopt this treatment approach as our standard approach for patients with advanced laryngeal cancer at the University of Michigan.
With that as background, we embarked on that for a great number of years and I decided that it was incumbent on us to look at our results and see if we could validate those improved survival rates outside of the clinical trial setting.
What are the next steps with this research?
We think the results are exciting and we believe that our findings validate this treatment approach. What I hope is that other institutions will pick this up. Decision making for patients with advanced head and neck cancer, and laryngeal in particular, is quite complex and when you add in the possibility of radiation therapy alone or concurrent chemoradiation or primary surgery, as well as weighing the risks and benefits and the various morbidities of these treatments and then explaining all that to the patient, it is difficult.
We do the best we can and we've taken a very individualized approach at Michigan by trying to match the treatment to the biology of the tumor. We believe that with that approach, both the patients with poor prognosis, that is the nonresponders, and the patients that have the good prognosis, that is the good responders, will have excellent survival rates. We hope that other places will pick this up and start using it not just for the laryngeal site but for other sites as well.