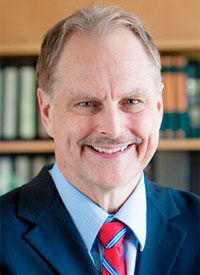 Thomas J. Kipps, MD, PhD
It is a very exciting time for patients with chronic lymphocytic leukemia (CLL), says Thomas Kipps, MD, PhD, a professor of Medicine, Evelyn and Edwin Tasch Chair in Cancer Research, and deputy director of Research Operations at the UC San Diego Moores Cancer Center.
"Gone are the days when we had just 1 limited option­­: chemotherapy followed by more chemotherapy," Kipps said in a recent interview with
OncLive
. "Currently we have more options than we've ever had before. We have new drugs that have very exciting activity, and patients are able to be treated more effectively with perhaps fewer side effects."
In the frontline setting, one treatment option for CLL that Kipps is particularly excited about is obinutuzumab (Gazyva), as well as other similar second- and third-generation anti–­CD-20 antibodies.
The FDA approved obinutuzumab for use in combination with chlorambucil to treat patients with previously untreated CLL in November 2013, based on the the phase III CLL11 trial. Patients in the study received chlorambucil (n = 118), chlorambucil plus obinutuzumab (n = 238), or chlorambucil plus rituximab (n = 233). An additional, 192 patients were enrolled for a second stage of the study to allow for the direct comparison of the obinutuzumab and rituximab combinations.
In stage 1 of the study, obinutuzumab plus chlorambucil reduced the risk of progression by 81% compared with chlorambucil alone (27.2 vs 11.2 months; HR = 0.19; 95% CI, 0.14-0.27;
P
<.0001). In stage 2 of the study, obinutuzumab plus chlorambucil led to a median progression-free survival (PFS) of 26.7 months compared with 14.9 months with rituximab and chlorambucil (HR = 0.42; 95% CI, 0.33-0.54;
P
<.0001).
The novel Bcl-2 inhibitor venetoclax (ABT-199) has also shown promise in the frontline setting, said Kipps. In a phase II study of patients with relapsed or refractory CLL harboring the 17p deletion, venetoclax met its primary endpoint for overall response rate (ORR). Full study results have not been presented; however, previous studies have shown an ORR of 79% with venetoclax in CLL, with 26% of patients experiencing a complete response, and 53% of patients experiencing a partial response.
Venetoclax received a breakthrough therapy designation from the FDA for patients with 17p deletion CLL in May 2015.
Despite these and other breakthroughs, challenges in CLL still remain. These include understanding how to better treat indolent patients who are not experiencing symptoms without burdening them with side effects, according to Kipps.
In his Q&A with
OncLive,
Kipps discusses how challenges in CLL may be met in the future and the impact obinutuzumab, venetoclax, and other novel agents could have on CLL treatment going forward.
OncLive: How has the advent of new monoclonal antibodies changed the treatment paradigm in CLL?
Kipps
: The antibody that we have been excited about for years now is rituximab, which has been very useful and clearly has improved survival for patients with this disease. Now we have second- and third-generation anti–CD-20 antibodies, ofatumumab (Arzerra) and obinutuzumab. These antibodies are showing a great deal of activity. In the case of obinutuzumab, there is actually a trial where patients were treated with chemotherapy alone, chemotherapy plus rituximab, or chemotherapy plus obinutuzumab. It was clear that when the antibody was added, it improved the activity of the therapy and patients had deeper and longer remissions than those who did not get the antibody.
What was interesting about this study is if you look at rituximab as an addition to chemotherapy versus obinutuzumab, you will find that the remissions with obinutuzumab are actually deeper, and longer lived. This is being shown in subsequent follow-up studies. There has been a clear improvement in PFS and now we are also seeing overall survival advantage. We've had the opportunity to test this drug in combination with other chemotherapies, including bendamustine which is typically used in the treatment of CLL patients. When we combined obinutuzumab with bendamustine we had phenomenal response rates, with 90% overall response rates. So of these patients, have gone into deep remissions, and that is really gratifying to see.
Are there other types of novel agents that you are particularly excited about for the treatment of CLL?
There is another drug call venetoclax, which is a totally different class of drug. This drug inhibits a protein called Bcl-2. This is a protein that actually protects the leukemia cell from dying. When you inhibit that protein, you can actually induce the death of the cell. They have been proven very effective in patients.