Emmanuel Antonarakis, MD
Within the past 5 years, several agents have become available for the treatment of metastatic castration-resistant prostate cancer (mCRPC) based on survival benefits observed in randomized clinical trials. The FDA approved abiraterone acetate (Zytiga; the prodrug of abiraterone and inhibitor of CYP17A1 that blocks extragonadal, testicular, and intratumoral androgen synthesis) and enzalutamide (Xtandi; a direct inhibitor of the androgen receptor that attenuates its activation and signaling within the nucleus) in 2011 and 2012, respectively, for the treatment of mCRPC. Although each has demonstrated improved survival outcomes, the optimal sequencing of these therapies has not been established, and most patients exhibit some degree of cross-resistance.
Examining the Optimal Sequencing of Therapies
Benjamin Maughan, MD, from Johns Hopkins Sidney Kimmel Comprehensive Cancer Center in Baltimore, MD, and colleagues presented their findings on the optimal sequencing of abiraterone and enzalutamide in men with mCRPC at the Genitourinary Cancers Symposium in January 2016.
1
In the retrospective study of 71 patients, 58 received abiraterone followed immediately by enzalutamide (abi-to-enza) and 13 received enzalutamide followed immediately by abiraterone (enza-to-abi). The primary endpoint was combined progression-free survival (PFS), measured from initiation of the first therapy until disease progression on the second therapy. The secondary endpoint was overall survival (OS), from the start of the first therapy until death
(Table 1
).
1



Compared with the enza-to-abi group, the abi-to-enza group had significantly longer combined PFS (16.3 vs 12.5 months; HR, 0.53;
P
=.04). Overall survival was also numerically longer for the abi-to-enza group, although the difference did not reach statistical significance (29.0 vs 21.0 months; HR, 0.51;
P
<.10). Using multivariable analyses to account for differences in prostate-specific antigen (PSA) levels, hemoglobin, visceral disease, and prior docetaxel use, the abi-to-enza sequence showed improvements in both combined PFS (HR, 2.59;
P
=.03) and OS (HR, 4.59;
P
<.01).
The results of this preliminary study suggest that the sequence of abiraterone followed by enzalutamide may produce clinically superior outcomes in men with mCRPC compared with enzalutamide followed by abiraterone. However, investigators caution that results could be due to baseline imbalances in the study population and the small sample size.
The senior author of the study, Emmanuel S. Antonarakis, MD, also with the Johns Hopkins Sidney Kimmel Comprehensive Cancer Center, noted, "The evidence that abiraterone is superior to enzalutamide in terms of optimal sequencing is very weak right now, and these data should only be viewed as hypothesis-generating. That question can only be conclusively answered by prospective studies."
To address this point, an ongoing, prospective phase II clinical trial is under way (NCT02125357). Investigators will randomize patients with mCRPC to receive either first-line abiraterone or enzalutamide, and patients will subsequently cross over to the alternative agent at the time of PSA progression. The primary endpoint will be the PSA response rate to the second-line therapy in each arm. Since androgen receptor (AR) activation drives PSA expression, PSA response will be used to determine abiraterone and enzalutamide efficacy. Secondary outcome measures will assess potential circulating biomarkers that are associated with treatment efficacy and resistance, including AR mutations as well as AR splice variants
(Table 2)
.
2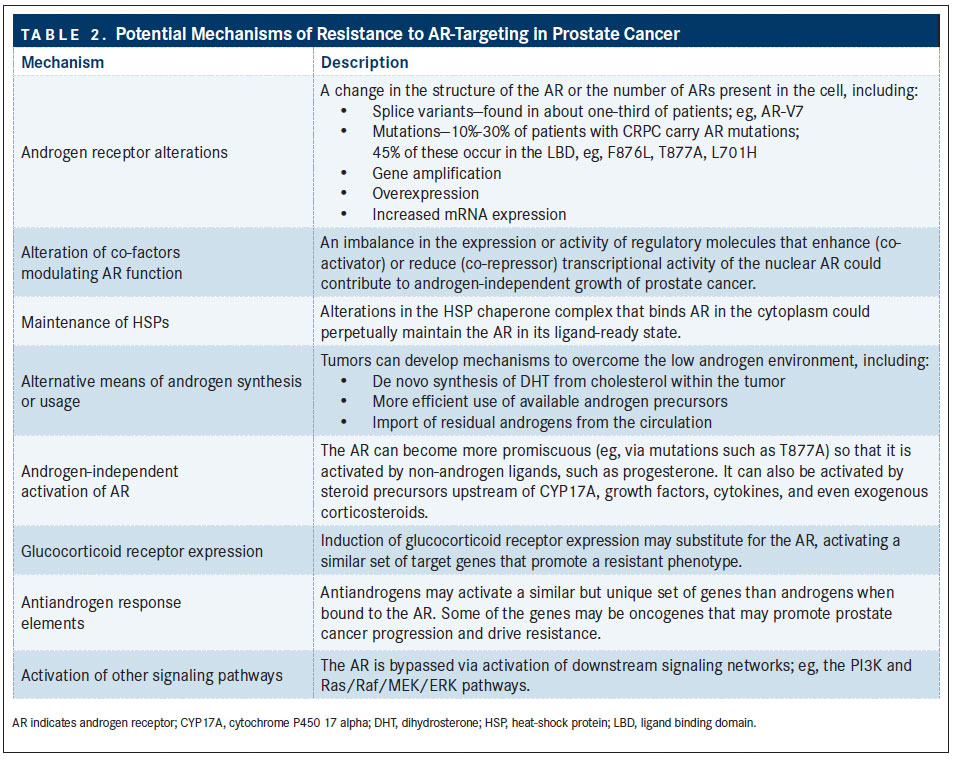 Additional studies have examined the clinical efficacy of sequential therapy and have shown modest results. In a study by Schrader et al,
4
35 patients who had received prior docetaxel chemotherapy were treated sequentially with abiraterone followed by enzalutamide. After abiraterone treatment, 46% of patients achieved a >50% decline in PSA. Among those who were abiraterone-sensitive, 44% achieved a >50% PSA decline with enzalutamide treatment; among those who were abiraterone-insensitive, only 16% achieved a >50% PSA decline with subsequent enzalutamide.