Panelists Ghassan K. Abou-Alfa, MD; Amit G. Singal, MD; Riccardo Lencioni, MD; and Richard Finn, MD, discuss the typical diagnostic workup for HCC, including how scoring systems are used to make treatment decisions.
View Now >>
Panelists R. Michael Tuttle, MD; Marcia S. Brose, MD, PhD; Frank Worden, MD; Eric Sherman, MD; and Naifa Busaidy, MD, FACP, FACE, explain their approaches to treating patients with high-risk DTC. The role of radiotherapy and tyrosine kinase inhibitors are discussed
View Now >>
Featured Program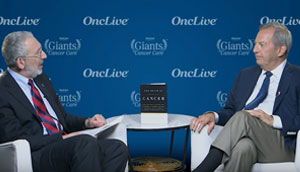 In
The Death of Cancer
, written by Vincent T. DeVita Jr, MD, a pioneering oncologist reveals, after 50 years on the front lines of medicine, why the war on cancer is winnable, and how to get there.
Melanoma Updates
Pembrolizumab/Ipilimumab Shows Promising Efficacy
James Allison Predicts 'Cures' With Checkpoint Inhibitor Combinations
Nivolumab Survival Benefit Sustained in Updated Data
Novel T-VEC Combos Mark Next Phase of Oncolytic Immunotherapy Era
Novel Treatments, Targets Next Step in Immuno-Oncology Revolution
Download the meeting reporter >>>