Search Videos by Topic or Participant
A video editorial series that features expert opinions on multiple areas of focus.
Featured Video Series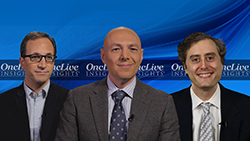 Ezra Cohen, MD; Robert Ferris, MD, PhD, FACS; and Jared Weiss, MD, provide a comprehensive overview of diagnosis and treatment of advanced head and neck squamous cell carcinoma (HNSCC), including multidisciplinary care and emerging evidence surrounding novel therapies. Treatment approaches to HPV-positive and HPV-negative tumors are explored.
Melanoma Updates
Pembrolizumab/Ipilimumab Shows Promising Efficacy
James Allison Predicts 'Cures' With Checkpoint Inhibitor Combinations
Nivolumab Survival Benefit Sustained in Updated Data
Novel T-VEC Combos Mark Next Phase of Oncolytic Immunotherapy Era
Novel Treatments, Targets Next Step in Immuno-Oncology Revolution
Download the meeting reporter >>>
Immunotherapy and Oncology
Mark Socinski, MD, moderates this OncLive Peer Exchange panel discussion on modern use of anti-angiogenic therapy. The experts in gastrointestinal and lung cancers include Johanna C. Bendell, MD; Edward Garon, MD; Roy Herbst, MD; Yelena Y. Janjigian, MD; and Manish Shah, MD.
View Now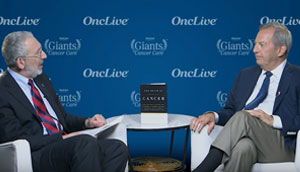 In
The Death of Cancer
, written by Vincent T. DeVita Jr, MD, a pioneering oncologist reveals, after 50 years on the front lines of medicine, why the war on cancer is winnable, and how to get there.