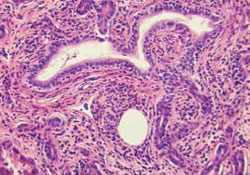 Controversy over optimal surveillance methods for hepatocellular carcinoma (HCC) continues to drive ongoing investigation into improved biomarkers and imaging techniques. Recent screening studies have focused on the utilization of alpha-fetoprotein (AFP) with ultrasound and abbreviated MRI approaches.
Role of Biomarkers for Improving Ultrasound Sensitivity
Until alternative surveillance modalities, such as the abbreviated MRI, are thoroughly validated and widely available, methods for improving ultrasound sensitivity are of critical importance. In the absence of alternative modalities, several groups have investigated the utility of serum biomarkers, such as AFP, as potential surveillance tools. By itself, however, AFP has proved suboptimal in detecting HCC.
6–8

... to read the full story