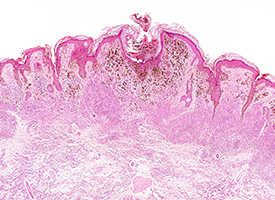 Patients with unresectable or metastatic melanoma showed durable responses following treatment with the novel PD-1 inhibitor prolgolimab, according to the final analysis of the phase II MIRACULUM trial (NCT03269565) presented at the 2019 ESMO Immuno-Oncology Congress. The study, which tested 2 dosing strategies of prolgolimab, met the primary efficacy endpoint in both treatment arms. In arm 1, 63 patients were treated with prolgolimab at 1 mg/kg every 2 weeks and 63 patients in arm 2 received prolgolimab at 3 mg/kg every 3 weeks until disease progression or intolerable toxicity.
In patients who had ≥1 dose of prolgolimab and had CT scans, the objective response rate (ORR) was 40.7% in arm 1, comprising 5 (8.5%) complete responses (CRs) and 19 (32.2%) partial responses (PRs). In arm 2, in which patients received a higher dose at less frequent intervals, the ORR was 32.7% (n = 18), which included 2 (3.64%) CRs and 16 (29.09%) PRs.
"Both dosing regimens of prolgolimab have durable antitumor activity in patients with advanced melanoma," said Sergey Tjulandin MD, DSCi, deputy director and head of Department of Clinical Pharmacology and Chemotherapy of the N.N. Blokhin Cancer Research Center of Oncology in Moscow, Russia.
Prolgolimab is an IgG1 PD-1 monoclonal antibody with a
L234A-L235A
(
LALA
) mutation that results in silencing of Fc binding, according to Tjulandin.

... to read the full story