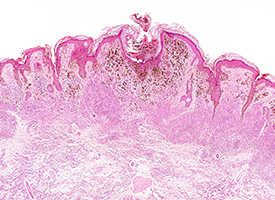 Despite local therapy, many patients with locoregional recurrence of melanoma during or after adjuvant anti–PD-1 therapy relapse again. Moreover, the benefit of second-line adjuvant treatment in this group of patients is unclear.
In reviewing the entire group of 83 patients who received systemic therapy, 29% had subsequent progression and 20 (24%) patients died. At a median follow-up of 7.2 months, the median overall survival from first systemic therapy was 21.3 months.
---
Owen CN, Larkin JMG, Shoushtari AN, et al. A multicenter analysis of melanoma recurrence following adjuvant anti-PD1 therapy. J Clin Oncol. 2019;37(suppl; abstr 9502). meetinglibrary.asco.org/record/173458/slide.

... to read the full story