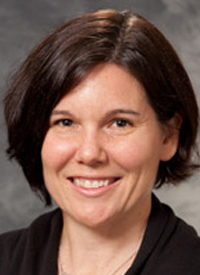 Lisa M. Barroilhet, MD
Assistant Professor, Medicine
Dolores A. Buchler, MD Faculty Fellow in Gynecologic Oncology
UW Carbone Cancer Center
University of Wisconsin School of Medicine and Public Health
Madison, WI
Targeted therapy in ovarian cancer is a relatively new field, and one that is rapidly expanding. PARP inhibitors are the most commonly used targeted therapy for patients with recurrent ovarian cancer, and the indications for the use of these drugs have broadened in recent months. Their popularity has increased as newly reported study findings support their efficacy and because of their oral bioavailability and convenient dosing schedule.
PARP inhibitors block the enzyme poly (ADP-ribose) polymerase, causing multiple doublestrand DNA breaks to form in patients who have homologous recombination deficiency (HRD). The best-known HRD pathway proteins are BRCA1 and BRCA2, which are encoded by t u mor - suppr e ssion genes that can harbor germline mutations.
BRCA
-related ovarian cancers make up about 15% of all ovarian cancers diagnosed in the United States, and the genes are most commonly altered in patients with familial breast and ovarian cancer syndromes. Patients with
BRCA
mutations have up to a 60% lifetime risk of developing ovarian cancer.
Tumors with
BRCA
mutations are particularly susceptible to double-strand DNA breaks. In the presence of a PARP inhibitor, repair of DNA damage, which is an expected part of any cell cycle, cannot be performed efficiently and tumor cells die (Figure). Normal cells that do not replicate their DNA as frequently as cancer cells do and that lack
BRCA
abnormalities survive PARP inhibition. This means that some of the most frustrating adverse effects of traditional chemotherapy, such as hair loss, are avoided.
Figure. PARP Inhibition in Action
Impact of FDA Approvals
There are 3 PARP inhibitors on the market that are approved for the treatment of patients with ovarian cancer: olaparib (Lynparza), rucaparib (Rubraca), and niraparib (Zejula).
The FDA approved olaparib in December 2014 for use in patients with suspected or confirmed
BRCA
-mutated advanced ovarian cancer who have been treated with 3 or more prior lines of chemotherapy. A phase III clinical trial accruing at UW Carbone Cancer Center and centers throughout the United States is examining olaparib with and without cediranib, a potent inhibitor of vascular endothelial growth factor receptor tyrosine kinases, compared with standard platinum-doublet chemotherapy (NCT02446600). This is the largest multiarm prospective trial examining the efficacy of olaparib paired with other targeted therapy.
Rucaparib was approved in December 2016 for patients with confirmed somatic or germline
BRCA
mutations who have been treated with 2 or more prior lines of chemotherapy. Testing of tumor tissue in the recurrent setting in order to identify a potential somatic
BRCA
mutation is now becoming commonplace, while it was rarely performed prior to rucaparib's approval.
In March 2017, following a report in the
New England Journal of Medicine
,
1
niraparib was approved for maintenance treatment of patients with recurrent ovarian cancer who meet the common definition of platinum sensitivity. This is the first FDA-approved maintenance therapy for ovarian cancer and has the potential to change standard practice.