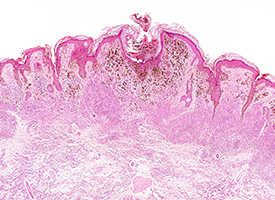 Five years out, one-third of patients with unresectable or metastatic
BRAF
V600-mutant melanoma remained alive following treatment with dual targeted therapy with dabrafenib (Tafinlar) plus trametinib (Mekinist), and 1 in 5 remained alive without progression, according to an analysis COMBI-d and COMBI-v trials reported at the 2019 ASCO Annual Meeting.
1
---
References
Nathan P, Robert C, Grob JJ, et al. Five-year analysis of dabrafenib plus trametinib in patients with BRAF V600-mutant unresectable or metastatic melanoma. J Clin Oncol. 2019;37 (suppl; abstr 9507).
Long GV, Stroyakovskiy D, Gogas H, et al. Combined BRAF and MEK Inhibition versus BRAF inhibition alone in melanoma. N Eng J Med. 2014; 371:1877-1888 doi: 10.1056/NEJMoa1406037.
Robert C, Karaszewska B, Schachter J, et al. Improved overall survival in melanoma with combined dabrafenib and trametinib. N Engl J Med. 2015;372:30-39. doi: 10.1056/NEJMoa1412690.
Schadendorf D, Long GV, Strojakovski D, et al. Three-year pooled analysis of factors associated with clinical outcomes across dabrafenib and trametinib combination therapy phase 3 randomised trials. Eur J Cancer. 2017;82:45-55.
<<< 2019 ASCO Annual Meeting

... to read the full story