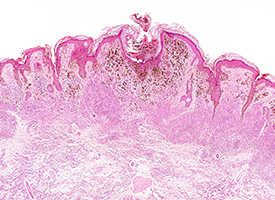 The CDK4/6 inhibitor palbociclib (Ibrance) exhibited preliminary activity in patients with acral lentiginous melanoma (ALM) associated with
CDK
-pathway aberrations, according to results of a small phase II trial that were reported at the 2019 ASCO Annual Meeting.
Most recently, the FDA expanded the approval of palbociclib capsules in combination with endocrine therapy to include male patients with HR-positive, HER2-negative advanced or metastatic breast cancer.
---
Mao L, Cao Y, Sheng X, et al. Palbociclib (P) in advanced acral lentiginous melanoma (ALM) with CDK4 pathway gene aberrations. J Clin Oncol. 2019;37(suppl; abstr 9528). meetinglibrary.asco.org/record/176442/abstract.

... to read the full story