Cora Sternberg, MD
Prostate cancer is the most commonly diagnosed cancer among men and is the second leading cause of cancer-related deaths.
1
It is most frequently diagnosed in men age 65 to 74 years, with nearly 90% of all new cases diagnosed in men age ≥55 years.
2
Given the demographic distribution of patients with prostate cancer, clinicians must consider and evaluate the unique characteristics and treatment options for this population. Unlike younger men, older men are more likely to be diagnosed with advanced disease, and tend to have higher mortality rates and poorer prognosis.
3
Many older patients with prostate cancer are treated with systemic therapies, stressing the importance of evaluating clinical outcomes and safety profiles specifically in the elderly. Treating elderly patients presents certain challenges, including higher rates of comorbidities, physical frailty, and lower tolerance for adverse events (AEs). Several recent studies have investigated the safety and efficacy of next-generation antiandrogen therapies and chemotherapy in the geriatric population.
Studies With Abiraterone Acetate
Peter Mulders, MD, PhD, Radboud University Medical Center, Nijmegen, The Netherlands, and colleagues reported their findings of abiraterone acetate in elderly patients who had received prior chemotherapy in European Urology.
4
In a post hoc analysis of the COU-AA-301 trial,
5,6
the pivotal study that led to the approval of abiraterone acetate in patients who had received prior docetaxel, the efficacy and safety of abiraterone acetate (AA) plus prednisone was compared with placebo plus prednisone in younger (<75 years) and elderly (≥75 years) patients.
Abiraterone acetate, the prodrug of abiraterone, is an inhibitor of CYP17A that targets extragonadal synthesis of androgen. Since 2011, it has been approved for use in patients with metastatic castration-resistant prostate cancer (mCRPC) who have received prior docetaxel therapy, and since 2012 for patients who are chemotherapy-naïve
(TABLE 1)
.
7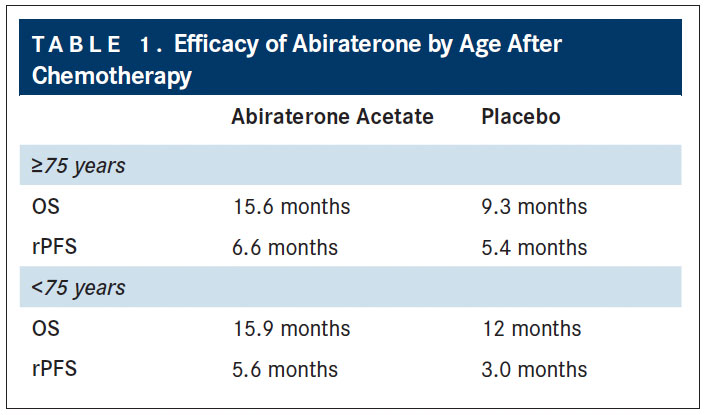 Compared with patients who received placebo plus prednisone, overall survival (OS) was significantly improved with AA plus prednisone in elderly patients (15.6 vs 9.3 months;
P
=.0022) and younger patients (15.9 vs 12.0 months;
P
=.0055). Similarly, AA plus prednisone significantly improved radiographic progression-free survival (PFS) in both elderly (6.6 vs 5.4 months;
P
=.0019) and younger (5.6 vs 3.0 months;
P
<.0001) patients, as well as time to prostate-specific antigen (PSA) progression (TTPP) in younger patients (8.4 vs 5.6 months;
P
<.0001).
4
Grade 3/4 AEs were similar in both age groups. Rates of hypertension and hypokalemia, both associated with AA and mineralocorticoid excess, were greater in the AA-plus-prednisone cohort, although rates were similar between age groups. Treatment-related cardiac events that led to study discontinuation were also similar between both treatment and age groups (1% vs 1%).
5,6
"This analysis is reassuring with respect to the risk–benefit ratio of treating elderly patients with AA, and AA is a viable treatment option for the elderly, either after docetaxel or for those not fit for docetaxel due to other comorbidities," the authors concluded.
Outcomes were further explored in an elderly population, in parallel post hoc analyses of the COU-AA-302 trial, which was the landmark study that led to the approval of AA in chemotherapy-naïve patients.
8,9
Further results were also published in the November 2015 issue of
The Journal of Urology
(TABLE 2)
.
10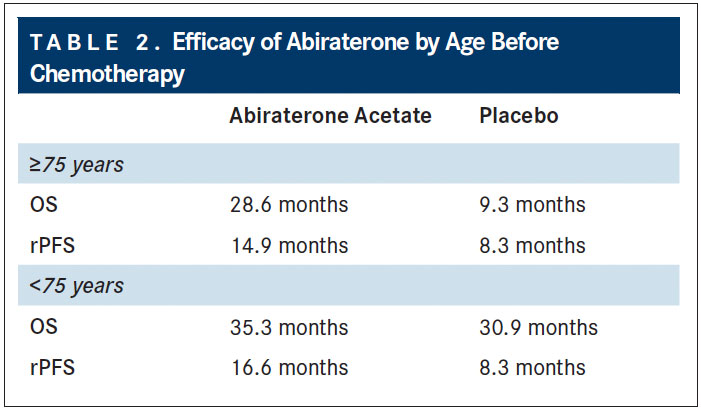 Clinical outcomes were significantly improved with AA plus prednisone compared with prednisone alone. For AA plus prednisone, radiographic PFS was superior in both elderly (14.9 vs 8.3 months;
P
=.0009) and younger (16.6 vs 8.3 months;
P
<.0001) cohorts, as well as OS in elderly patients (28.6 vs 25.6 months;
P
=.0268). All secondary endpoints also favored AA plus prednisone for both age groups. Adverse events associated with AA plus prednisone were similar between age groups. Mineralocorticoid excess events (edema, hypokalemia, hypertension) occurred more frequently with AA plus prednisone than with prednisone alone in both elderly and younger patients. Although infrequent, grade 3 or 4 hepatoxicity and cardiac disorders were more frequent in both age cohorts with AA plus prednisone.