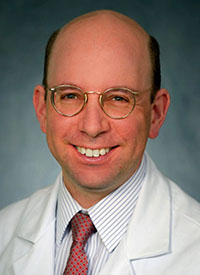 Alexander E Perl, MD
The addition of the chimeric antigen receptor (CAR) T-cell therapy tisagenlecleucel (Kymriah) in acute lymphoblastic leukemia (ALL) has transformed the treatment paradigm, explains Alexander Perl, MD.
, Perl, an associate professor of medicine at the University of Pennsylvania, discussed the implementation of CAR T-cell therapy in ALL and other advances with this unique treatment across the spectrum of hematologic malignancies.
OncLive: CAR T-cell therapy was recently named ASCO's Cancer Advance of the Year. How has this treatment changed the paradigm for hematologic malignancies, such as ALL?
Perl:
The CD19-directed therapies have really changed that process, whether it's panitumumab (Vectibix)—which is an antibody that targets CD19 and directs T cells to it—or more recently, CAR T-cell therapies. Now, we are seeing both high rates of response and much more durable responses. In particular, with CAR T-cell therapy, not all of these patients need a subsequent transplant because patients who get durable responses and persistence of their CAR T cells can live without additional therapy in sustained remissions.
That has really been a game changer for ALL. It's also been exciting that patients who have had salvage therapy and have not responded to it continue to respond to CAR T-cell therapy. Having a different modality that works by such a different mechanism has really opened the doors to real treatment outcomes that we couldn't have imagined years ago.
Can you comment on the long-term follow-up of tisagenlecleucel in the ELIANA trial?
The most exciting thing about the ELIANA study showed that you can do [the treatment] everywhere. When you have the training to look after these patients, it doesn't have to be from a single-center treating their own patients who get referred in. Generally, studies like that are very exciting but may have very "cherry-picked" data. What was eye opening about the ELIANA study was that you could track how many patients went in from start to finish and see, of the patients referred, how many were collected, and how many were infused, and get a sense of the whole treatment package compared with just how likely this therapy is going to help patients.
The fact that toxicities were very uniform between the single-center data and also the multicenter data has been encouraging. This is highly specialized therapy though, and physicians need a lot of training on it. There is a learning curve to it. These are durable responses and, while it's true that not everyone has seen long-term benefit, the rates of long-term benefit are reasonably high enough to say that this is significant in terms of the objective benefit.
What other CAR agents are being explored in ongoing clinical trials?
For ALL, there has been interest in patients who lose response to CAR T-cell therapy, and one mechanism of resistance has been loss of expression of the target of the CAR T cells. The other disease that's been very interesting in terms of development of CAR T-cell therapy has been myeloma, where there has been some development of CD19-targeted therapies, but B-cell maturation antigens (BCMA) have been where a lot of the action seems to be happening. Though BCMA is still in early stages of development, myeloma practitioners are seeing quite a bit of real treatment benefit.
What hematologic malignancies will we begin to see CAR T-cell therapies enter in next?
We're already trying to look to see if acute myeloid leukemia (AML) can be treated with immunotherapy, and the hardest challenge there is deciding which antigens to go after. There were data presented at the 2017 ASH Annual Meeting by City of Hope researchers looking at CD123-directed CAR T-cell therapies. There have been centers looking at that, including the University of Pennsylvania. CD33 has been looked at and other antigens, as well.

... to read the full story