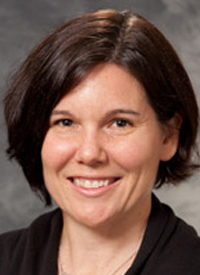 Lisa M. Barroilhet, MD
Assistant Professor, Medicine
Dolores A. Buchler, MD Faculty Fellow in Gynecologic Oncology
UW Carbone Cancer Center
University of Wisconsin School of Medicine and Public Health
Madison, WI
Targeted therapy in ovarian cancer is a relatively new field, and one that is rapidly expanding. PARP inhibitors are the most commonly used targeted therapy for patients with recurrent ovarian cancer, and the indications for the use of these drugs have broadened in recent months. Their popularity has increased as newly reported study findings support their efficacy and because of their oral bioavailability and convenient dosing schedule.
abnormalities survive PARP inhibition. This means that some of the most frustrating adverse effects of traditional chemotherapy, such as hair loss, are avoided.
Figure. PARP Inhibition in Action
Impact of FDA Approvals
There are 3 PARP inhibitors on the market that are approved for the treatment of patients with ovarian cancer: olaparib (Lynparza), rucaparib (Rubraca), and niraparib (Zejula).

... to read the full story